Blackmer Sliding Vane Pumps Designed For Compatibility With AdBlue Handling Operations
Blackmer has announced that its STX1220A-DEF Series Sliding Vane Pumps feature the stainless-steel construction that makes them compatible with AdBlue.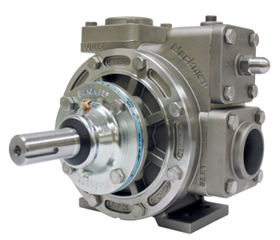 Blackmer STX1220A-DEF Sliding Vane Pump (Image: Blackmer)
As a result of the 2006 European Euro IV emission-control regulations that limited the amount of nitrogen oxide (NOx) that diesel-powered vehicles can emit, most new diesel vehicles on the continent feature a Selective Catalytic Reduction (SCR) system. In the SCR process, AdBlue—which is a solution consisting of 32.5% automotive - grade urea and 67.5% deionized water — is injected into the vehicle's exhaust stream where it converts harmful NOx into harmless nitrogen, water vapor and carbon dioxide (CO2).
Producers, distributors, storers and handlers of AdBlue must be cognizant of its corrosive properties, which make it incompatible with a wide array of metals, such as carbon steel, copper, zinc, lead and aluminum, or any plastics or metals coated with nickel. If AdBlue is used with any of these materials, trace levels may be found in the fluid, rendering it unusable. In fact, vehicles that use contaminated AdBlue can be susceptible to severe engine and SCR system damage.
Blackmer has constructed its STX1220A-DEF pumps with 316 stainless steel, which allows them to meet the ISO 22241 material and cleanliness standards that are required for AdBlue-handling applications. With its ability to operate at flow rates of 159 to 348 lpm, the STX1220A-DEF pump can also deliver the lower flows that many AdBlue tote-, drum- and bottle-filling applications require.
Other features of the STX1220A-DEF pump are:
Pushrod-free design that allows higher pump speeds from 700 to 1,200 rpm
Maximum viscosities of 100 SSU (22 cSt)
PTFE elastomers
90-degree porting with weld flanges
Foot-mounting
Chrome oxide-coated stainless-steel heads
External ball bearing construction with PTFE chemical mechanical seals
Internal adjustable relief valve
Three drain ports allows draining in any mounting position