Bitzer Presents Reciprocating Compressors
Bitzer presents reciprocating compressors from the CKH2 series, amongst others. These CO2 compressors are especially suitable for applications in supermarket refrigeration.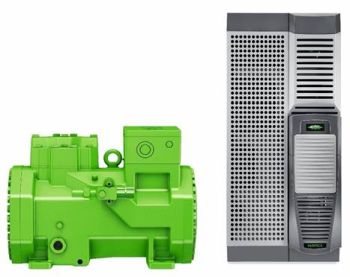 Highly efficient and with proven operating reliability – Bitzer CKH2 compressors in connection with Varipack frequency inverters (Image: Bitzer)
There is a good reason why CO2 is the refrigerant of choice for supermarket applications. It is future-proof while offering high energy efficiency and low global warming potential. Another product is the 2-cylinder reciprocating compressor for transcritical CO2 applications from the CKH2 family. The exhibited 2KTE-7K belongs to a family of compressors extended by two further displacements, providing Bitzer with a well-matched and broadly spread spectrum of displacement volumes from 3.3 m³ to 38.2 m³/h (50 Hz). As for all models in the series, it can be controlled to run at speeds between 30 and 70 Hz and has been designed for the special requirements of the natural refrigerant CO2. Thanks to their innovative cylinder heads, the entire series works with low pressure pulsation.
By using CO2 as a refrigerant, the operation of the reciprocating compressor, with a global warming potential of 1, is particularly environmentally compatible and it is ideally suited for smaller supermarket applications. The compressor is especially energy-efficient in combination with the Varipack external frequency inverter from Bitzer. With this, users can smoothly adjust a compressor's capacity to meet the actual requirements and save energy. As Bitzer specially developed the frequency inverters for combination with its reciprocating compressors and for use in refrigeration, they are ideally matched to one another. This means that they are energy-efficient, reliable and their operation is intuitive.