BIOCOR Series Aseptic Air-Operated Diaphragm Pumps Meet Strict Sanitary Standards In Food Applications
Almatec has announced that its BIOCOR Series of Aseptic Air-Operated Diaphragm Pumps have been designed to meet the strict standards, regulations and operational requirements that govern the manufacture of food products.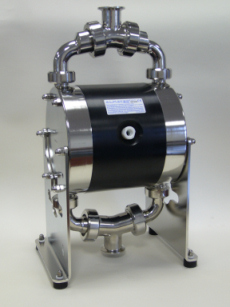 BIOCOR Series (Almatec)
BIOCOR Series pumps are available in two sizes, B20 and B32, with maximum capacities of 3.5 to 7.5 m3/h at a maximum discharge pressure of 7 bar. The material for the wetted housing parts is electro-polished 316L stainless steel with a center block of PE conductive. The suction and discharge ports are suitable for a variety of sanitary threads, while the diaphragms, ball valves and O-rings are made of PTFE or EPDM. BIOCOR pumps are equipped with the patented PERSWING P air-control system, which ensures accurate reversal of the main piston and low noise levels.
To meet the demands of sterile food applications, BIOCOR pumps show no horizontal areas. Each pump comes with four ball-lifting magnets that can be attached to the pump housing from the outside at the location of the four ball valves.
With the use of magnets that are included with the purchase of each pump, the ball valves can be lifted from their seats, allowing the pump to be drained entirely without needing to be disassembled or removed from the application. This enables clean-in-place (CIP) and sanitize-in-place (SIP) capability.
All of these features have helped Almatec's BIOCOR pumps earn certification from the European Hygienic Engineering & Design Group (EHEDG), United Food & Drug Administration (FDA) and 3A approval. In addition, pumps constructed with a center block of PE conductive meet the ATEX requirements of the directive 94/9/EG.