BEI Kimco Solves Demanding Application Requirements for High Performance Motor
BEI Kimco Magnetics recently developed a BLDC motor to meet the challenging high speed requirements for a Turbomolecular Vacuum Pump application. The Turbomolecular pump is widely used in the semiconductor device manufacturing process, which requires highly compressed gases for chemical deposition and implantation.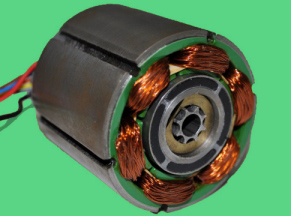 BEI Kimco Magnetics
The pump design incorporates the specially designed BEI motor driven turbine rotor, which is capable of operating speeds of up to 70,000 rpm. The extremely high speeds are essential to achieve vacuum pressures down to one micropascal.
Key to the success of the project was to design a compact, reliable and efficient motor capable of reaching and maintaining the required speeds under continuous duty conditions. To meet the customer's specifications, BEI Kimco developed a Frameless Permanent Magnet BLDC Motor (Model # DIP14-14-000A) measuring 1.4" in diameter x 1.4" in axial length. The Rotor/Stator Part Set configuration allows the motor rotor to be directly coupled to the load, resulting in excellent operating efficiencies, minimal parts count and a compact form factor. A stainless steel sleeve secures the magnets in place at the extreme speeds.
"BEI's proprietary magnetic circuit design approach was the key to accomplishing the high speed rotation loss characteristics necessary for this application," says Walter Smith, BEI Kimco's Senior Applications Engineer/Project Manager for Motors. "The development process once again proves BEI's ability to provide products that meet unique customer needs."
With its exceptionally high speed capabilities, the new motor can be adapted to a wide variety of other applications including medical hand-pieces and pumps.
BEI Kimco's motors and actuators have been used successfully in countless mission-critical applications for many high-end industrial and military applications. The ability to provide high-performance solutions tailored to the specific needs of the customer has allowed Kimco to consistently fulfill unique and challenging OEM requirements.