Bags of Sun at Coca Cola Enterprises
'Capri Sun' is the number one lunchbox juice drink in the UK, and a £43 million brand. Manufactured by Coca Cola Enterprises (CCE) at its Milton Keynes plant, the company has invested in a fifth production line, increasing its capacity to reflect increased demand.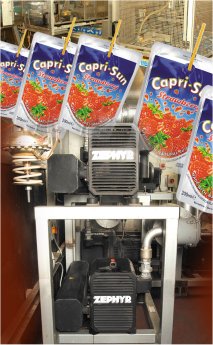 In today's highly competitive retail market, packaging design is critical to product success. Capri Sun's distinctive 200ml silver squeezy pouches are a winner with the public, but pose quite a challenge on the production line. With five production lines now in full swing, vacuum plays an essential role in carton erecting, and in opening the pouches prior to filling.
Rietschle Thomas was responsible for the vacuum system, and CCE opted for five Zephyr VLR300 claw vacuum pumps to supply a constant vacuum to the five production lines: backed up by a high-capacity Covac SMV300 multi-stage side channel pump for stand-by duties. CCE site service manger, Peter Philbrick, chose the frictionless, claw vacuum pumps partly for their dry-running design, since oil-lubricated pumps are not welcome in the food-packaging environment. Their low maintenance regime was also an important factor, according to Philbrick; "Dependability is vital for our high-production lines, and we haven't had a moments problem with the pumps."
The Rietschle Thomas multi-claw series are twin-shaft, rotary claw units, which generate frictionless vacuum (or pressure), offering an economic alternative to dry-running rotary vane pumps. Their high operating efficiency - and hence low installed motor power, is achieved by internal compression of the gas. The multi claw has no wear-sensitive discharge valves, since the rotation of the claws opens and closes the suction and discharge channels.
Zephyr VLR claw vacuum pumps require minimum maintenance, since the contra-rotating claws operate without contact. Tolerances are maintained by a high precision gear drive; hence, neither lubrication nor wearing part replacements is needed in the pump chamber. Operating efficiencies are high, and maintenance is limited to checking oil levels and maintaining the air inlet filter.
Coca-Cola Enterprises recently celebrated 25 years of production in Milton Keynes, which is the only plant producing 'Capri-Sun' in Great Britain. During the quarter of a century since the first can of 'Coca-Cola' rolled off the production line, the plant has grown to nine production lines.
Operating some of the most advanced technological equipment in the world, all 215 employees at the plant are constantly striving for excellence in production. The team's work was rewarded last year when Milton Keynes became only the fifth manufacturing plant in the world to receive the prestigious 'Coca-Cola' Quality System Award.