Armstrong Fluid Technology Unveils Latest Generation Integrated Pumping System
The new IPS 4000 Pump Controller from Armstrong Fluid Technology improves pump performance with all the advantages of a pre-engineered 'off the shelf' control solution. The time and cost of installation is reduced, with outstanding opportunities for energy savings, in both new build projects and refurbishments.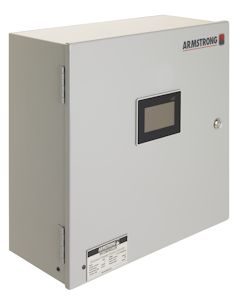 Armstrong Fluid Technology
Armstrong s Integrated Pumping System (IPS) range automatically matches pump capacity to changing building demand, keeping energy costs at a minimum. The latest model of pump controller, the IPS 4000, has the flexibility to optimise operations in any variable flow HVAC installation, and is designed for seamless integration with Armstrong's industry-leading technologies for Parallel Sensorless and multi-zone control.
Designed to control multiple secondary pumps for HVAC systems in both heating and cooling applications, the IPS 4000 is capable of maximising the performance profiles of up to six variable speed pumps in parallel or standby configurations and up to 12 zones. Suitable for installation in new HVAC systems, or for retrofit in existing sites, it is capable of full serial communications for easy integration with BMS (to leverage existing investment in control technology). Alternatively it can supply highly-effective standalone pump control without the need for BMS.
A key opportunity for energy savings involves coupling the IPS 4000 series controller with Armstrong Design Envelope pumps. The controller incorporates Armstrong's extremely popular Sensorless design feature which makes it possible to choose a system which does not rely on remote sensors. This avoids the costs of purchasing and installing remote sensors, reducing the time and material requirements, and can also improve lifetime system efficiency.
As the IPS 4000 is a pre-engineered, catalogue-based solution, it avoids the costs and programming associated with bespoke control options. Its flexibility and simplicity of implementation can deliver lowest installed and lowest operating cost, in addition to reducing project risk and improving lifetime system performance.
The IPS 4000 is part of a comprehensive portfolio of pump control solutions from Armstrong Fluid Technology.