Armstrong Fluid Technology Enters UK Circulator Market With Compass Range
Armstrong Fluid Technology has entered the UK circulator marketplace with the launch of the Compass range of high efficiency wet rotor circulators ideal for domestic and light commercial applications.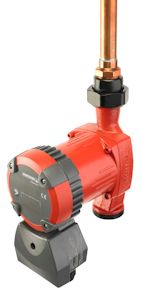 Compass range (Image: Armstrong)
Addressing a gap in the market, the Armstrong Compass range harnesses the company's Design Envelope (DE) technology to offer outstanding efficiency, with energy savings of up to 70%. In addition each circulator model delivers energy efficient performance across a wider range of operational conditions than competitive models, delivering economic benefits for wholesalers, contractors and installers.
Energy saving Armstrong Design Envelope technology, previously offered in Armstrong pumps from one horsepower to 350 kW, has been extended to encompass the new Compass generation of circulators in the power range 5W to 45W. Design Envelope is a revolutionary technology pioneered by Armstrong that offers optimised energy efficiency, expanded application flexibility, simplified circulator selection and lowest installed cost.
Compliant with EEI < 0.23 the new Compass circulator combines efficient motor technology with intelligent variable speed operation based on sensorless demand-based control. The Compass "auto" algorithm intelligently adapts to system demand, achieving the right setup every time and providing comfortable room temperatures.
The new circulator offers customers greater versatility, with eight different modes of operation to cover the performance of a wide range of fixed speed circulators. In addition, its broad operating range, producing up to 6 metres of head and 4.5 m3/h flow, simplifies and speeds up the selection process. For wholesalers and contractors this can mean reduced inventory as a fewer number of models can fulfil a broader range of requirements. The circulators are also easy to install, with a large wiring chamber and front-mounted terminal block, and have easy-to-read displays.
Wayne Rose, Technical Services Director, commented, "Armstrong Fluid Technology is a market-leader for domestic heating and hot water circulators in North America and Canada, as well as manufacturing the commercial scale pumps and integrated HVAC systems that are so popular in the UK market. With the extension of Design Envelope technology to encompass smaller pumps, we have identified a valuable role for the new Compass circulator here in the UK, offering significant advantages over competitors' models for domestic and light commercial applications."