Andritz to Supply Tidal Current Turbines to MeyGen, Scotland
Andritz Hydro Hammerfest, part of international technology Group Andritz, has received an order from MeyGen Ltd. to supply three 1.5-megawatt tidal current turbines to the planned tidal array in the Inner Sound of the Pentland Firth, Scotland.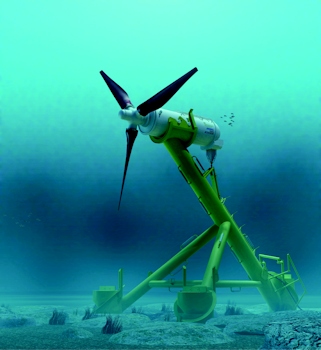 The order from MeyGen follows the successful completion of tests with Andritz Hydro Hammerfest's HS1000 pre-commercial demonstrator turbine (graphic) at the European Marine Energy Centre in Orkney, Scotland, in 2014. (Image: Andritz)
Tidal current turbines are anchored to the sea bed in coastal waters and driven by rising and falling tides. Commissioning of the three turbines is scheduled for the end of 2016.
The order placed with Andritz Hydro Hammerfest is the first commercial order worldwide to supply tidal current turbines and part of the first project phase in completion of the MeyGen tidal array, which is the largest development project worldwide for a tidal turbine array. In the long-term, MeyGen is planning to install a total of 269 turbines with an overall output of 398 megawatts, which will provide predictable, renewable, and sustainable energy for 175,000 Scottish households.
Andritz Hydro Hammerfest is one of the world's leading companies in the development and supply of tidal current turbines to generate electricity from renewable energy sources.