Amarinth Proves that Holidays are No Barrier when BASF Required a New Pump in an Emergency
Amarinth has proven that holidays are no barrier to ensuring process plants are kept running by quoting, manufacturing and supplying a stainless steel pump to BASF despite the Christmas and New Year shutdown across the United Kingdom.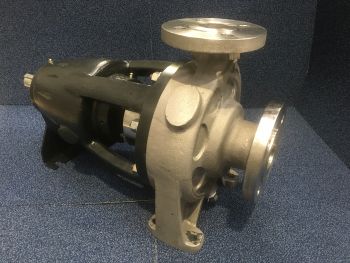 Amarinth Pump for BASF (Image: Amarinth)
When a former Girdlestone pump at a BASF chemical plant in Bradford, which is one of the largest and most productive single site chemical plants in the United Kingdom, failed two days before Christmas with no replacement available, BASF contacted Amarinth for emergency support.
The BASF site manufactures products used to enhance industrial processing in various industries such as papermaking, mining, oil extraction, textiles and wastewater treatment and these require the pumping of acrylamide. Working with BASF, Amarinth was able to draw on its experience to produce a quotation the same day to provide a suitable replacement for the failed Girdlestone unit comprising of a bare shaft pump manufactured in 316 stainless steel to ISO15099 specifications.
With the Christmas period well underway and much of the UK shut down for two weeks, Amarinth used its influence across a well-established supply chain to source the necessary components and accelerate their delivery. Drawing on its own operational agility, Amarinth was then able to assemble and test the pump at its premises in Rendlesham, Suffolk and deliver it directly to the BASF site.
In just a few weeks from the initial contact, BASF had commissioned the new Amarinth pump at the Bradford plant, thereby ensuring downtime was kept to a minimum during the Christmas period.
Oliver Brigginshaw, Managing Director of Amarinth, commented: "We are very conscious that many of our clients operate 24/7 and so we have in place procedures for responding to emergencies such as this, whenever and wherever they occur. The Christmas and New Year period can be particularly challenging in the United Kingdom and so we are delighted that we were able to manufacture and deliver the required pump successfully to BASF in such a timely manner."