Amarinth Delivered Pumps to Kazakhstan
Amarinth has delivered $500K of API 610 OH2 pumps to Schlumberger which will be deployed on a process water treatment package in the Dunga oil field, Kazakhstan, operated by Maersk Oil.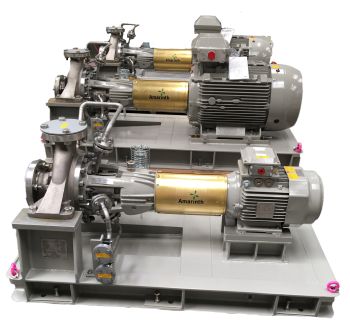 Amarinth API 610 OH2 pumps ready for shipment to Schlumberger for use in the Dunga oil field, Kazakhstan (Image: Amarinth)
The order, for six API 610 OH2 super duplex stainless steel pumps valued at $500K, was the first that Schlumberger had placed with Amarinth. The pumps were required on a very tight 26-week delivery and will be used on a process water treatment package destined for the Dunga oil field in Kazakhstan. The Dunga field, operated by Maersk Oil, is an onshore development located 50 km north east of the town of Aktau on the east coast of the Caspian Sea in western Kazakhstan, and is currently producing around 15,000 barrels of oil per day. The pumps will operate in the challenging Kazakhstan environment that can see temperatures reaching 45C in the summer but plunging to an ice-bound -30C in the winter.
Amarinth had supplied pumps to other Maersk Oil projects over many years and so was already familiar with Maersk specifications. Furthermore, Amarinth had manufactured pumps for other fields in Kazakhstan and so was confident handling the complex GOST-K Certificate of Conformity documentary evidence required by Kazakhstan law to prove that equipment meets Kazakhstan requirements and standards.
Oliver Brigginshaw, Managing Director of Amarinth, commented: "We are delighted to have delivered this first order from Schlumberger for Maersk Oil, particularly as the pumps were destined for Kazakhstan, a region where we already have a lot of experience. We look forward to working on future projects."