Almatec Releases New MM Series AODD Pumps
Almatec is pleased to announce the launch of its new MM Series AODD pump specifically designed to meet the strict standards, regulations and operational requirements that govern the food and beverage industry.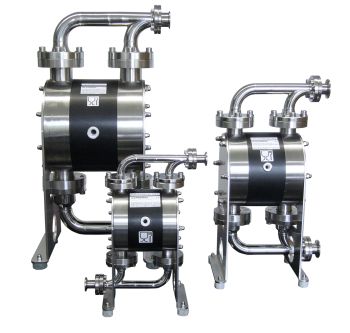 Almatec
Typical applications include the transfer and filling of beverages, sauces and toppings, dosing of food and beverage ingredients; processing of meat, pastry dough, smoothies, fruit pulp and candies; and the transfer and filling of cosmetics.
Almatec MM Series pumps are ideal for food and beverage applications because they feature food-grade wetted materials and a construction that enables clean-in-place (CIP) and sanitize-in-place (SIP) capabilities. The design of MM Series pumps also incorporates soft redirections without rotating parts and shaft seals in the product chamber, a critical consideration for hygienic operations. Additional features and benefits that make these pumps an ideal solution for food and beverage applications include a pumping principle that offers gentle displacement, stainless steel housing, wetted surfaces with a surface roughness of max. 3.2 µm (0.8 µm as option), good suction life, easy disassembly of the fluid path, and self-priming and dry run capabilities. All the pump's materials comply with the hygienic standards of the FDA, and pumps equipped with PTFE diaphragms and ball valves also comply with EC1935/2004. In addition, MM Series pumps conform to ATEX requirements according to the 2014/34/EU directive.
MM Series pumps are available in three pump sizes – MM 15, MM 25 and MM 40 – and achieve maximum capacities from 3.5 to 20 m3/h. The maximum discharge pressure of MM Series pumps is 7 bar (100 psig) with a short-term temperature range up to 130 °C (266 °F) for cleaning processes. PTFE and EPDM diaphragms, ball valves and wear parts are compatible with other Almatec pumps. Stroke counting and diaphragm monitoring are available as accessories.