ABS Launches New Pump in AS Family
ABS is pleased to announce the addition of the AS 0631 to the AS pump family. The new pump is a DN 65 vortex model and utilizes 2 pole motors. These pumps are based on the K63 models made by Pumpex and the extension forms part of the co-ordination program between the Pumpex and ABS pump ranges.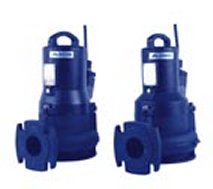 The AS 0631 is available in both single and three phase versions in 50Hz and 60Hz.The unit incorporates the existing well proven AS technology and is ideal for the pumping of communal and domestic sewage or industrial effluent.
Key benefits of AS 0631 include
Maximum pumping head of 22m for 50Hz models, or 25m / 83ft for 60Hz models
Vortex hydraulic allowing 40mm solids passage
Compact design
High-head pumping
Compatible with existing installations
Proven technology
ABS submersible pumps of the AS series have been designed for the economical and reliable pumping of sewage and wastewater in private, communal and industrial applications. The AS series can be used in both fixed or transportable application, and models with vortex hydraulics are particularily suitable for fluids containing fibrous or abrasive matter, and for sewage.