ABS Launches New PIRANHAMAT® 701 Lifting Station
ABS Pumps announces the extension of its existing PIRANHAMAT range by the model PIRANHAMAT 701. This new lifting station complements the current range with a tank volume of 70 litres and a maximum pumping head of 30 metres.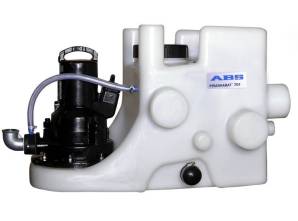 New PIRANHAMAT 701 Lifting Station (source ABS Pumps)
The unit incorporates the existing well proven PIRANHA® technology which cuts up the sewage allowing pumping to high heads or over long distance in small bore piping.
Key benefits
PIRANHA cutting system allows pumping through small bore piping
Large variety of inlet and outlet ports for easy installations
Compact design
High-head pumping
Compatible with existing installations
Proven technology
The PIRANHAMAT 701 is a fully flood-proof sewage lifting station designed for the automatic pumping of sewage from areas below the back wash level, and the dewatering of domestic, commercial developments and special applications.