A "Green-tinted" View: Scherzinger Invests in a Cogeneration Unit at its Furtwangen Site
By installing a cogeneration unit in its production facility, Pumpenfabrik Ernst Scherzinger GmbH & Co. KG is providing evidence of its environmental credentials.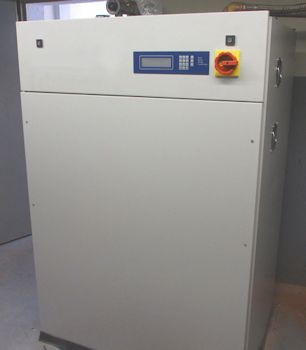 The installed cogeneration unit at Scherzinger (Image: Scherzinger)
With the shift in technology from oil burners to the use of modern energy generation systems, Pumpenfabrik Ernst Scherzinger GmbH & Co. KG has already made some initial changes at its Furtwangen site. For example, a cogeneration unit has been supplying electricity and heat to the entire pump factory since October. "Installing a cogeneration unit was a logical step for us. At the end of the day, we attach great importance to environmentally conscious actions", explained Matthias Derse, CEO of Scherzinger. "The cogeneration unit also represents a highlight to us in a different respect - we are currently developing a modern pump unit for this system. Therefore, the unit will also serve as a test laboratory for our pump solutions in this area in the future", continued Derse.
Cogeneration units are currently seen as a particularly effective energy efficiency solution. And with good reason. Heat produced when the electricity is generated can be used to heat buildings.
Scherzinger gear pumps play a crucial role in this, acting as an oil change pump in the system. They ensure that the cogeneration unit is regularly supplied with new oil from an extra tank, thereby significantly lengthening the intervals between services. The high ambient temperatures in a cogeneration unit pose particular problems for conventional pump and drive solutions as these are already working at the limits of their performance there. That is why Scherzinger s electric motor-driven gear pump has been designed for ambient temperatures of up to 80°C. "Electrical components such as electrolytic condensers age rapidly at these temperatures. We have come up with an ideal solution encompassing operational reliability and pump troubleshooting at a highly competitive cost", added Derse.