First Gravimetric Gear Pump in the ROWAMETRIC Portfolio
ROWASOL is expanding its ROWAMETRIC dosing system portfolio for liquid colors with a gravimetric gear pump from the manufacturer Micro Interface Design (MID).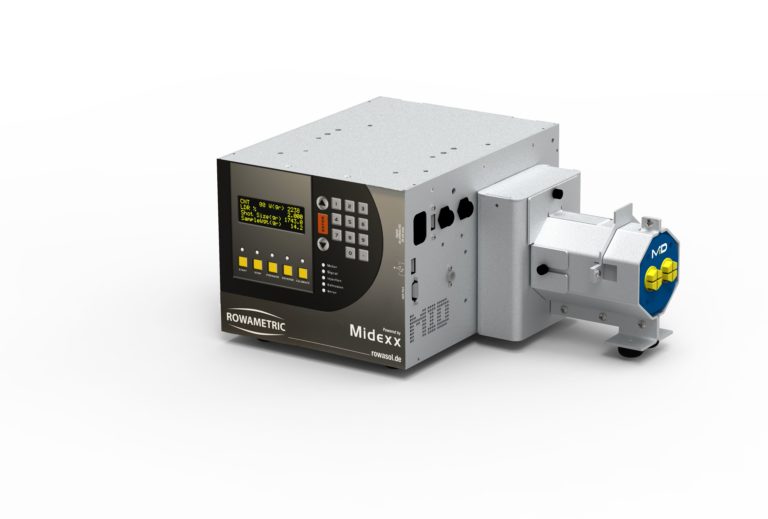 New gear pump of the ROWAMETRIC dosing systems series (Image Source: ROWA GROUP Holding GmbH)
The main advantage of gear pumps is generally their ability to build up high pressures in a compact design. Thus, a pressure of up to 100 bar can also be generated with this system, which can be monitored by an optional pressure sensor at the pump outlet.
When using liquid colors in extrusion applications, pressure injection offers the possibility of dosing the color downstream, e.g. on the processing section of the extruder or even downstream in the melt pipe. In this way, extremely fast color changes can be produced.
Up to now, gear pump systems available from ROWASOL have relied on volumetric control of the output, i.e. a theoretical throughput calculation depending on the density of the color and the volume of the pump head. Any deviations in output are only detected downstream in the produced part. However, the new system works based on MID proprietary gravimetric control algorithm which adjusts the control parameters based on the mass of color leaving the container. In this way, significantly higher precision is achieved and waste is minimized. At the same time, the load cell, which is designed for a mass of up to 50 kg, also monitors the fill level, which can be visualized by means of an optionally available alarm signal light or transmitted as a signal to a master computer.
The system can be equipped with three different pump heads with a wide spread for throughputs between 0.0018 and 63 l/h, which can be exchanged in just a few steps without tools for even faster color changes and maintenance work.
For a continuous production process, it is possible to switch temporarily, manually or automatically, to volumetric operation mode and, for example, to refill from a larger supply container via transfer pump. The container can also be changed "on the fly" thanks to the use of quick-release couplings. The hose section between the container and the pump inlet serves as a color buffer.