60 Years of Bredel Peristaltic Hose Pumps
Watson-Marlow Fluid Technology Group (WMFTG) is celebrating a major milestone in its history by marking 60 years in business for its Bredel brand with a significant investment in new technology at the factory in the Netherlands.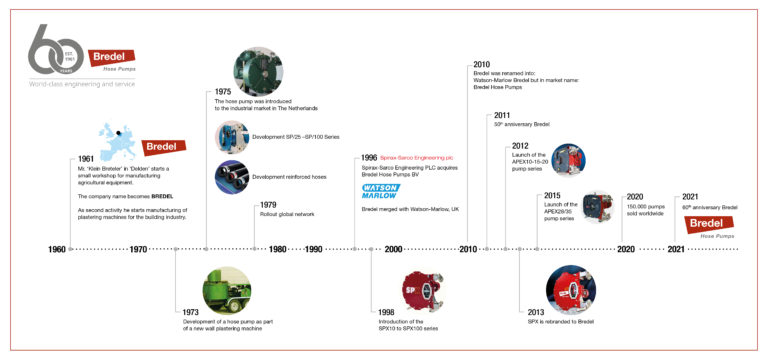 WMFTG marks 60 year anniversary of Bredel peristaltic hose pumps with over €4 million investment in production technology . (Image source: Watson-Marlow Fluid Technology Group)
Managing Director Johan Van den Heuvel commented "Over the past few weeks we have invested around €750k in our hose grinding equipment, to upgrade it and ensure continuity of our unique hoses. At Bredel we are one of the only pump companies to manufacture our own hoses, optimised for perfect performance by precision machining. The new grinding equipment software and hardware components comply with the latest standards and safety regulations."
Late last year, the company installed a 3.4 million advanced CNC turn-mill centre, complete with automated loading/unlading and an innovative storage system.
By executing this major overhaul, WMFTG is future-proofing its Bredel business for the long term. From a customer perspective, continuous supply to WMFTG's global customer base is secured.
High-performance Bredel pumps are relied upon by some of the world's best known brands and biggest industrial companies to transfer and dose aggressive, viscous and abrasive fluids and solids. Originally designed to meet the needs of customers in the construction sector as a concrete pump, Bredel pumps are now used in applications across a wide range of industries that include brewing, water treatment, construction, chemical and mining.
Benefitting from a simple operating principle: Bredel pumps have no seals, valves, diaphragms, stators, glands or other costly components to replace, ensuring they can be easily maintained in-situ without relocation to a workshop. Only the hose requires occasional replacement, which is a simple task.
Today, a particularly fast-growing application is chemical transfer duties in the production of lithium-ion batteries. Bredel customers are located all over the world and supported by 43 direct sales and support offices.
Continuous innovation
Managing Director Johan Van den Heuvel believes that the success of the Bredel brand is down to continuous investment in the manufacturing process, and consistently high levels of product innovation. "It's in our nature to keep one step ahead. We're flexible and responsive to our customers' needs – and this is why 150,000 of our pumps are deployed worldwide," he says.
"Our birthday marks the next stage in our journey. Bredel pumps continue to evolve, with many notable achievements arriving in the past 10 years. A good example is the APEX range, which was introduced in 2012 and expanded in 2015.  We all look forward to continuing to the next stage in our evolution," concludes Mr Van den Heuvel.