CFturbo Launches Major Software Update
CFturbo, Inc. just announced the new release of their upgraded software, CFturbo 2022.R1.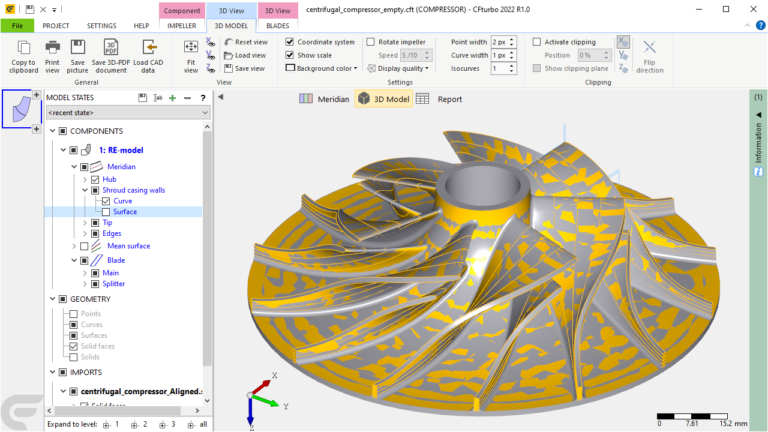 Centrifugal Compressor Impeller. (Image source: CFturbo, Inc.)
With this latest software release, the company has added new modules to their proprietary software that grants users the freedom to create and push the limits of conceptual design of pumps, blowers, fans, compressors, and turbines. Unlike any other turbomachinery design software on the market, CFturbo can be uniquely combined with different CAE-codes of third party vendors like ANSYS, NUMECA, SIEMENS PLM, and SIMERICS, or open-source simulation and optimization software.
The new release features new modules as well as enhancements to existing components. With this release, there comes an all-new new CFturbo module which is made for creating Axial Hydro Turbines or propeller turbines.  As usual it includes complete 3D modeling and multiple interfaces to CAD, CFD and FEA. However, the most desired, the most advanced feature in CFturbo 2022.R1 is an entirely new, user-friendly, fast method for Reverse Engineering (RE) of arbitrary bladed Turbomachinery components like axial and centrifugal rotors, or vaned stators. In addition, with CFturbo 2022.R1, Radial inflow and Radial Outflow Volutes can be managed in one design project. This feature has been requested by the aerospace industry to streamline rocket engine design. Our structural and modal analysis code CFturbo FEA has been enhanced to do structural analysis of rotor-stator assemblies. CFturbo FEA is a complementary add-on that enables CFturbo users to compute the structural integrity and to do modal analyses of bladed components designed in CFturbo.