Wrapflex Coupling with "Replace in Place" Convenience
Falk Corporation now offers an enhanced version of their Wrapflex non-lubricated coupling. Improvements include both higher torque ratings and increased bore capacity, for smaller size selections and lower initial costs.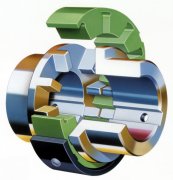 Falk Corporation
Falk has optimized the Wrapflex coupling for use on NEMA and ISO motor frames. Increased ratings and bore capacities allow for smaller size couplings to be utilized in many cases. This reduces the initial cost of the coupling, and may allow smaller less costly coupling guards to be used.
Wrapflex couplings combine the economy of simple compressions designs, with the misalignment capacity and vibration damping inherent in more expensive shear designs. In addition, Wrapflex couplings allow for replacement of the element moving the connected equipment. This feature greatly reduces service downtime and improves plant productivity.
Falk's new catalog also has expanded information on the selection and use of couplings with Taper Lock and QD style bushings.
The Milwaukee, WI based Falk Corporation offers drive systems, gear drives, gearmotors, shaft couplings, fluid couplings, coupling guards, ring gears, and steel castings in mining, metal processing, pulp and paper, cement, aggregates, chemical processing, utilities, transportation, and food processing.