Reich Has Changed its Appearance
In response to the progressing globalization, Germany-based Dipl.-Ing. Herwarth Reich GmbH has refreshed its outer appearance and will present itself with a new visual look from 2020 onwards.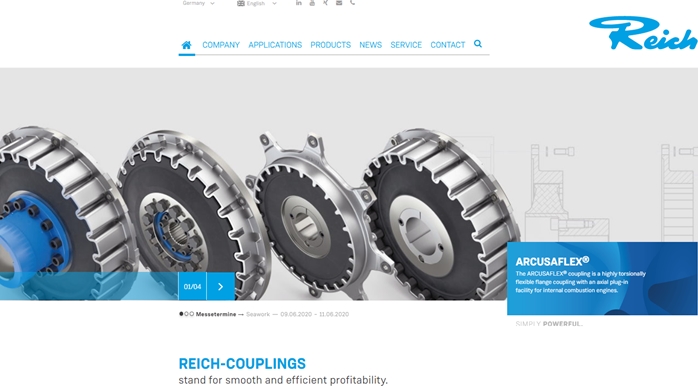 Initiated by Christian Reich in 2010, the '2020 Vision' of a globally operating company could be realized with success. As of to-date, 9 subsidiaries have been established. These subsidiaries and further international sales partners jointly make sure that our customers can count on a worldwide support.
As the final logical step, a new and unique appearance has been created for our brand. This brand message has been matched to the global development for a better perception in the global market. Refreshingly modern, yet still tied to tradition, we will continue to provide our customers with high-quality products and worldwide support as reliable partners.
But the most eye-catching change of the family-owned company in Bochum who has been active in power transmission engineering since 1946 and evolved into a leading company in the development and production of torsionally flexible couplings, is: a correspondingly redefined Corporate Design.
Our relaunched website shines with a new brilliance and now comes with  pages featuring an optimized, user-friendly navigation bar. The clearly arranged menu navigation takes the user to the desired information, straightforward and directly. The focus of the new website is on an up-to-date presentation of REICH's entire product portfolio. More and more users are using tables and smartphones to call up websites, so this feature has been incorporated.
Likewise, all product documents have been updated to show the new Corporate Design which includes, among others, a new logo in a fresh REICH blue. While rebranding, particular attention was paid to significantly change the existing Corporate Design in all essential elements, helping REICH to gain a modern appearance with international appeal and a great recognition value.