Wilo Pumps in Action in Areas Affected by Flooding
Every day, Wilo develops solutions for obtaining and storing water, as well as supplying it to people, in a sustainable way. Consequently, it became a matter of great concern for the Dortmund-based pump expert Wilo to offer the necessary support to areas affected by flooding, by providing its pump technologies.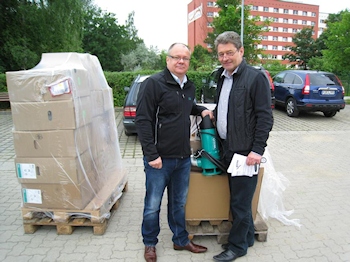 Wilo pumps in action in areas affected by flooding (Image: Wilo)
On Thursday, June 6th, the Sales Manager (East) for the DACH region (Germany, Austria and Switzerland), Mr Alf Bauer, handed over 20 submersible pumps of the KS type to the district administrator of the Crisis Control Centre for the Saxon Switzerland/Eastern Ore Mountains district on behalf of the Wilo Group. The donated Wilo pumps were distributed to four crews from the technical relief agency and the fire brigade which had been deployed to various locations around the town of Pirna. District administrator Michael Geisler, Lord Mayor Klaus-Peter Hanke and the crew chiefs of the Weißeritzkreis district of the fire brigade and technical relief agency were absolutely delighted with the donated equipment worth a total of €27,000.
At the time when the donation took place, the River Elbe was running at a level of 9.50 m, meaning that the high-water mark had been reached. As a result, the Wilo pumps could be put straight to use in pumping out basements. Crisis team chief Ralf Thiele emphasised that the highly effective submersible pumps are ideal for rapidly pumping water out of buildings.
About 20,000 people in Pirna and its surrounding villages have been affected by the flooding of the River Elbe. More than 8,500 have had to be evacuated. Also, large parts of Pirna s old town have been flooded and are without electricity supply. Overall, Wilo is supporting the clean-up activities in the flooded region with 24 submersible pumps of the KS8, KS20 and TP80 types. As early as last Tuesday, Wilo was providing rapid assistance in the city of Halle with a pump donation. The donation by Wilo is another important contribution following the donation already given to the region back in 2002.
The Bavarian site at Hof, along with the company s plant in India, is the central hub for global activities by Wilo in the water management segment. Employing about 500 people here, Wilo produces a comprehensive range of pumps and pump systems for public water supply, sewage disposal and sewage treatment technology. The product range extends from submersible pumps with a power of less than one kilowatt through to models with several hundred kilowatts. Innovative technologies for achieving the maximum level of efficiency, and thus the best energy efficiency, are some of the most striking properties of Wilo s products.