Wilo Celebrates a Big Family Party
To mark its 150th anniversary, Wilo threw a big family party in Dortmund with approximately 3,500 guests.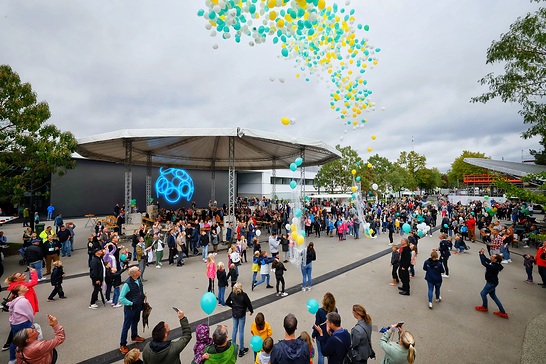 To mark its 150th anniversary, Wilo celebrated a big family party in Dortmund with approximately 3,500 visitors. (Image source: WILO SE)
The Dortmund-based technology company Wilo celebrated its 150th anniversary with a big family party. About 3,500 employees, family members and friends as well as invited guests participated in the event at the Wilopark in Dortmund-Hörde. The guests included Dortmund mayor Thomas Westphal and former mayor Ullrich Sierau. North Rhine–Westphalia's Minister President Hendrik Wüst extended his greetings to the employees via video message.
Oliver Hermes, President & CEO of the Wilo Group, opened festivities in the late morning: "This family party is a big thank you to our employees. We have three years of pandemic with many hardships behind us. But today, it's time to party."
Oliver Hermes had special words of welcome for Dr Jochen Opländer: "You have said that today is one of the most important days in your life. We really appreciate this. We hope that what we have to offer here today pleases you." In his speech, Dortmund Mayor Thomas Westphal added: "Wilo has always been a global player with heart, which is down to earth and true to our city of Dortmund. That's why Wilo has always let all its employees know: It all depends on you.
The opening was followed by a panel discussion with active and former top athletes, including Roman Weidenfeller (two-time German football champion with Borussia Dortmund), Richard Schmidt (Olympic gold medallist in rowing as well as world and European champion in the German Men's Eight), Laura Nolte (Olympic two-person bobsleigh gold medallist) and Corina Scholten (tennis team world champion).
In the afternoon, Wilo inaugurated its own pilot hydrogen plant. With this modular power plant, the company is laying the foundation for a self-sufficient, decentralised and regenerative energy supply network. "This is a strong contribution to climate protection made in Dortmund", said the President & CEO of the Wilo Group. "With it, we are showing how industrial companies can make an essential contribution to climate protection and security of supply with forward-looking solutions that are open to different technologies."
The celebrations lasted until the early evening. The numerous activity stands and tours through the Smart Factory offered diverse entertainment despite the rainy weather. The highlight was the set played by the Wilo band "Steilvorlage" with hits like "99 Red Balloons" by Nena, "Tage wie diese" by Die Toten Hosen and "Summer of 69" by Bryan Adams.