Wilden Saniflo Metal Pumps for Pharmaceutical Processing Applications
Wilden has designed its Saniflo Hygienic Series (HS) metal Air-Operated Double-Diaphragm pumps with a variety of features to help pharmaceutical manufacturers maximize their process efficiency.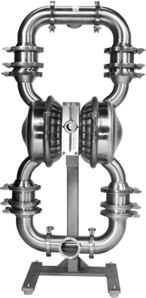 Wilden Saniflo Hygienic Series (Image: Wilden)
Saniflo HS metal pumps are available in a number of elastomer options, including Full Stroke PTFE integral piston diaphragms. These diaphragms offer superior product containment and are an excellent choice when pumping highly aggressive fluids within the pharmaceutical processing industry. Saniflo HS metal pumps also feature a clamped configuration while their redesigned liquid path reduces internal friction to provide consistent output.
Wilden Saniflo HS metal pumps are also available with specialized air distribution systems, such as the revolutionary Pro-Flo X Air-Distribution System (ADS), which offers operational flexibility through its state-of-the-art Efficiency Management System (EMS). The EMS allows each pump to be finely tuned by adjusting the air volume at the pump inlet with a variable control dial. By turning the EMS dial, users can either maximize flow to get the job done fast, or maximize efficiency to reduce processing costs. In addition, Wilden offers an online Pro-Flo- X Simulator that can help pharmaceutical processors fine tune their pump performance and lower operational costs.
Wilden Saniflo HS Metal pumps are available in four sizes from 25 mm (1") to 76 mm (3"). Advanced Series metal pumps feature flow rates to 918 lpm (243 gpm) and can handle solids to 76 mm (3"). These pumps are offered in 316L stainless steel. A variety of connection options are available such as: DIN clamp, SMS and Tri-Clamp style to meet specific requirements.