Wilden PX20 Original Metal Pumps Handle Larger Solids
Wilden, the worldwide leader in air-operated double-diaphragm pump technology and an operating company within Dover Corporation's Pump Solutions Group (PSG), announced that its PX20 Original Metal air-operated double-diaphragm pumps feature operating capabilities that make them ideal for pumping materials that contain larger solid particles.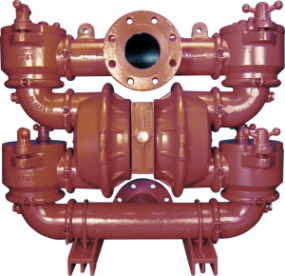 Wilden PX20
This ability makes them ideal for use as sump pumps on military ships, as well as in pumping applications in the paint, wastewater treatment, pulp and paper, and mining industries.
Wilden PX20s are 102 mm (4") pumps that feature the clamped configuration that Jim Wilden invented in 1955. They have lube-free operation and can pass solids as large as 35mm (1-3/8"). An Ultra-Flex™ elastomer option helps ensure long life, maximum solid's passage and maximum mean time between replacement. This helps guarantee the PX20's reliability without sacrificing ease of maintenance.
The PX20 Original Metal pumps also feature Wilden's patent-pending Pro-Flo X air distribution system (ADS). This flexibility is accomplished by the state-of-the-art Efficiency Management System (EMS), which optimizes the Pro-Flo X ADS for the actual operation parameters regardless of the application demands or pump size. The EMS allows the operator to use an integrated control dial to select the efficiency point and flow rate that best suits the application.
About Wilden
Jim Wilden, founder of Wilden Pump and Engineering Co., revolutionized the pumping industry when he invented the air-operated double-diaphragm pump in 1955. Since then, Wilden has created a line of distinctive pumps that have proven to be trustworthy solutions to pumping applications in a wide variety of industries. Wilden—headquartered in Grand Terrace, California, USA—is a member of Dover Corporation's Pump Solutions Group (PSG).