WETEX 2019 in the UAE: New Water and Environmental Technology for the Desert Nation
The United Arab Emirates is investing huge amounts of money in securing its future water and energy supply. For overseas companies in these sectors, the trade fair WETEX is the platform for showcasing their innovations and technologies relating to water, wastewater, energy and the environment. It is taking place at the Dubai International Convention and Exhibition Center from October 21–23, 2019. The event is hosted by the water and energy authority DEWA, the country s largest public-sector company.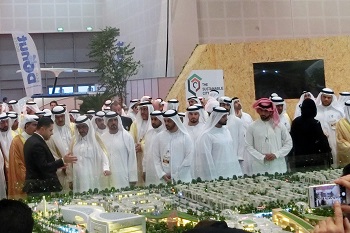 Among the visitors at WETEX are many high-ranking decision makers from the United Arab Emirates. (Image source: IMAG GmbH)
The WETEX has shown continuous growth ever since it was first held in 1999. In 2018, it played host to more than 2,000 exhibitors from 53 countries and over 35,000 visitors. The United Arab Emirates predominately relies on technology and expertise from overseas for their planned billion-dollar projects in the water and energy sector. This makes the WETEX the ideal opportunity for overseas companies to make the right contacts and be a part of these infrastructure projects.
The United Arab Emirates is one of the driest countries on earth yet is also one of the countries with the highest levels of water consumption per capita. Therefore, securing its water supply as well as water management in general are high on the desert nation s agenda. Also, when it comes to energy supply, the UAE wants to concentrate more strongly on solar and wind energy. By 2050, roughly 44 percent of its energy demand should be covered by renewable energy sources. There is also significant investment potential in the Expo 2020, which is due to be held in the country next year.
The international partner of WETEX is the foreign trade fair company IMAG, a subsidiary of Messe München.