Wangen Pumpen Partners with Flowtrend
Wangen Pumpen has partnered in distribution with Flowtrend Inc., USA. Flowtrend Inc. will distribute Wangen Pumpen's state-of-the-art hygienic twin screw pump within the United States and Canada.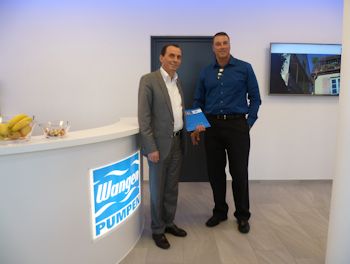 Steve Stovall from Flowtrend (right) and Eduard Weiss from Wangen Pumpen (left) (Image: Pumpenfabrik Wangen GmbH)
The hygienic twin screw pump adds to Flowtrend's already extensive line of products that cover the food, beverage, and pharmaceutical industries. Wangen Pumpen serves this distribution channel to penetrate new markets and develop their international presence.
Wangen Pumpen's Sales Development Manager, Eduard Weiss understands the importance of connecting and building a strong North American network with companies that share the same vision as the pump manufacturer. "Flowtrend has a strong stand in the market as a manufacturer. They share the same values as Wangen Pumpen; precise quality, network and customer service. I know that this will benefit both Flowtrend and Wamgem Pumpen. Twin Screw technology is the future of positive displacement pumps in the sanitary industry. The benefits to the end user provide significant advantages compared to what we have seen in the market place to date." said Jan H. Hansen, President, Flowtrend. "This opportunity adds to our mission of high-quality consumer options at an exceptional value."
The Hygienic Twin Screw Pump is set to launch for exhibit with Flowtrend at the International Production and Processing Expo (ippexpo.org) in Atlanta from January 27- 29, 2015.