New Multi-Screw Pump for Hygienic Applications
NETZSCH Pumps & Systems developed a multi-screw pump for hygienic applications and expanded its previous hygienic pump portfolio with the new model series: NOTOS® 2NSH.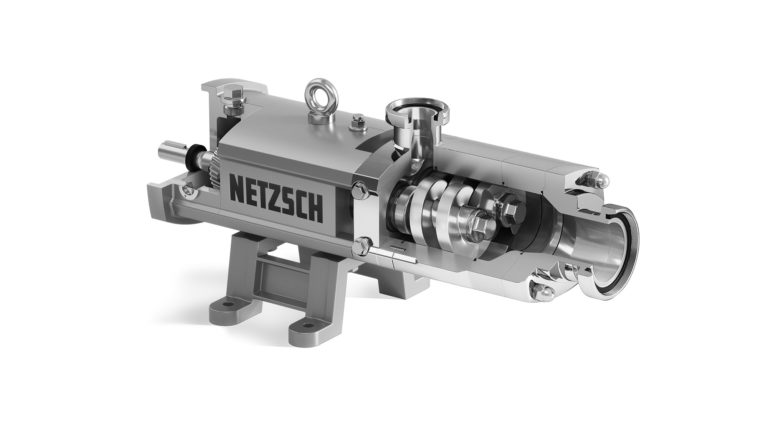 To offer even better, more customised solutions, pump expert NETZSCH Pumps & Systems adds the NOTOS 2NSH two-screw pump to its current portfolio of hygiene pumps. (Image source: NETZSCH Pumpen & Systeme GmbH)
The two-spindle positive displacement pumps are all-metal pumps that pump especially demanding and sensitive media. These pumps' unique feature is that they can pump large volumes while managing pressures up to 16 bar on a small footprint.
Many products in the food processing, beverage, chemicals, pharma and cosmetics industries require hygienic and safe pumping. This includes baby food, ketchup, syrups and shampoo, but also pharmaceutical ingredients. To offer even better, more customised solutions for these particularly complex tasks, the global pump expert NETZSCH, headquartered in Germany, is adding a new model to its current portfolio of hygiene pumps.
"During operation of the pump, the two intermeshing, counter-rotating screws form chambers combined with the pump housing. In these chambers, the medium is moved from the pump intake to the delivery side in a continuous axial motion," explains Rainer Gozzer, Manager of the Global Business Field Food and Pharmaceutical at NETZSCH in Waldkraiburg. The pump achieves flow rates of up to 200 m³/h and a delivery pressure up to 16 bar. As the 2NSH is a full-metal pump where the lobe rotors do not touch, the pump does not pose any potential for contamination. Dry running is also not a risk with the new unit. The pump can be cleaned (CIP) and sterilised (SIP) efficiently. During the CIP cleaning process, the 2NSH is used as a conveying pump and as a pressure-increasing pump during cleaning.
Also, the pump offers various advantages, depending on the version: In the FSIP version, it does not have to be removed from the pipeline for maintenance. It is therefore particularly user-friendly. The conventional version, on the other hand, can be equipped with a heating jacket. In this way, it conveys a heat-dependent medium at a constant temperature and ensures flowability. The conventional 2NSH can also be used for container emptying and impresses with a residual value in the container of less than 1 %. Depending on the application, NETZSCH offers the best pump for every operator.