Walter Frank Launches Revolutionary Pressure Regulating Valve
Pioneers in fire fighting fittings & building protection equipment, Walter Frank Ltd, which is part of Westley Group has announced the launch of a revolutionary new pressure regulating valve, the PRV9i.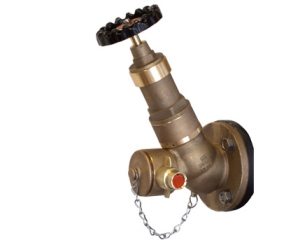 Walter Frank Ltd.
The valve is fully interchangeable and capable of regulating pressure up to 9 bar, offering the end-user superb flexibility from both an operational and maintenance perspective within defence, construction, oil and gas and petrochemical applications.
Developed in response to the demand for a genuine 2 N.B pressure regulating valve, with the additional benefit of a wider outlet setting range of 3.5 to 9 bar, the PRV9i was modified from the existing Frank Type 3 range of modular PRVs.
PRV9i not only meets, but exceeds the requirements of British fire-fighting Standard BS9990 in terms of interchangeability and performance. The valve is unique in that it is the only British-designed and manufactured valve that fully complies with the standard, which applies to non-automatic fire-fighting systems in buildings. Compliance to the standard is supported by Walter Franks ISO 9000 quality approval.
For international projects, PRV9i is the only UK valve that can be certified by independent bodies such as Lloyds, Factory Mutual and Underwriters Laboratory. Compliance to these standards means that the valve is at the forefront of pressure regulating equipment in the global fire-fighting industry. As the UK leader and a major global competitor, PRV9i is the prominent choice for pressure regulation in Middle-Eastern high-rise buildings, where such approvals are automatically requested.
Walter Frank engineers have worked in tandem with consultant engineers on high-rise projects such as Bishopsgate Tower in London (also known as The Pinnacle). Project leaders have chosen PRV9i as the pressure-regulating valve most capable of meeting the buildings fire-safety requirements. As a result, PRV9i is specified by name on the building specifications for this high-profile project, translating to a requirement of around 150 valves.
Following an excellent reception by global and UK valve-buyers, Walter Frank has secured interest in PRV9i for the UK naval program.
As a complete and flexible solution to pressure regulation in offshore environments, the valve is optimised for projects involving the outfitting, refurbishment and maintenance of offshore platforms. Manufactured in a range of marine-friendly alloys such as aluminium bronze and gunmetal, there is also the opportunity for production in stainless steel and SMO 254.
Rob Salisbury, Commercial Director for Westley Group, said: "The Walter Frank PRV9i is a significant innovation within the valve industry and for Westley Group. In todays competitive environment, customers want one universal product and the PRV9i is one step closer to achieving that.
Both Walter Frank and Westley Group understand the importance of evolution and development, and are continually researching spring technology to offer even better valve performance.
PRV9i Features, Key Benefits and Specification
The outlet pressure can be preset to give a constant outlet pressure of 3.5 bar up to 9 bar, with flow rates in excess of 1200 l/m. This controlled outlet pressure can be easily modified on site under flowing conditions to accommodate varying inlet pressures due to pump variations and pipe work variations. A calibration certificate will be issued to guarantee operation under the required pressure
Adjusting the spring compression controls the outlet pressure of the unit. This can be done easily in situ during flowing conditions using the minimum of basic tools such as a spanner, allen key and tubular spanner. The adjustment unit is enclosed and locked to help prevent unauthorised personnel from interfering with this function.
2.5 Full Bore
Valve performance exceeds BS5041 and BS9990 requirements (where PRV9i is to be used on Wet Riser Systems in buildings)
Design exceeds the requirements of BS5154 where applicable in hydrant design
Rated up to PN25 (operating conditions should be within the limitation of the rating of the inlet connection)
Outlet pressure should be set and locked; PRV9i is not designed to have a dynamically variable outlet pressure
Primary nitrile rubber sealing disc with secondary metal to metal seat Marine/Offshore requirement. Renewable nitrile rubber primary seal designed for low cost and ease of replacement
All PRV9i hydrant valves are supplied with a cast finish as standard. Various painted finishes are available on request
About Westley Group
Westley Group is one of Europes largest ferrous and non-ferrous foundry & engineering groups, consisting of five brands: Spunalloys, Walter Frank, Francis W Birkett, Westleys and Mathers Foundry.
The Group employs approximately 500 people and has a turnover in excess of 40 million. The five brands encompass a diverse range of products and services, catering for the most modern of industry needs.
Two hundred years of expertise is supplied to an extremely diverse range of markets and industries throughout the world with a core focus on quality, on-time delivery, responsiveness, communication, flexibility and value. Westley Groups roots date back to the 1700s. Due to a series of strategic acquisitions coupled with organic growth, the Group has grown beyond all recognition into a successful multi-million pound turnover business.