Voith Wins PR Picture Award 2014
Voith has won the "PR Bild Award 2014" ("PR Picture Award 2014"). On November 13, the photograph of a Voith Francis runner was declared the winner of the PR Bild Award.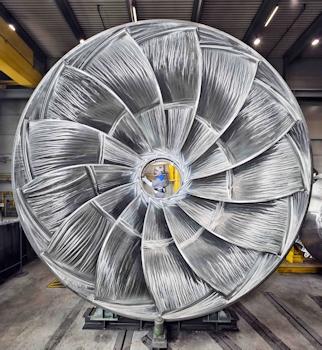 The winning picture: The "PR Bild 2014" shows the runner of a Francis turbine.(Picture: Voith / Marius Höfinger)
The presentation ceremony took place at the Nugloss Gallery Stilwerk in Hamburg during a festive evening event. The PR Bild Award is a prestigious competition headed by the dpa news agency subsidiary "News Aktuell". In 2014, the prize, which is much coveted among PR and image experts, was awarded for the tenth time.
"Exceptionally beautiful. Even more: pure aesthetics," was the jury's verdict on this photo of the Voith Francis runner. The shot by photographer Marius Höfinger shows work being done on a Voith turbine runner for the Bratsk hydropower plant in Siberia. "The fact that the photographer managed to capture this beauty in all its simplicity is an outstanding achievement," said Edith Stier-Thompson, Managing Director of News Aktuell, on behalf of the jury.
With an unusual angle of a point of the production process, the image submitted by Voith is an impressive example of the amazing and surprising motifs that such an industrial production process can provide. The image asserted itself in the category "Product Photograph."
In order to increase the output and the efficiency of the plant in Bratsk, Voith is removing the old runners of the six machine units and replaces them by appropriate new components. With an annual production of about 30,000 gigawatt hours, Bratsk is one of the world s most powerful hydroelectric plants.
Companies, photographers and agencies from Germany, Austria and Switzerland submitted a total of more than 1,700 pictures for the Award. A specialist jury consisting of journalists and PR experts set up a shortlist of ten images from all applications in the categories "Event & Exhibition", "NGO Photo", "Tourism, Leisure and Sport", "Product Image", "Portrait" and "Corporate Communications." After publishing the shortlist in August, News Aktuell invited press spokespeople, journalists and the interested public to determine the winning picture of the altogether six categories.