bauma CTT RUSSIA Sends Positive Signal to the Network
The 21st edition of bauma CTT RUSSIA was successfully held from May 25 to 28 at the Crocus Expo IEC in Moscow. Despite the impact of the pandemic and difficult travel conditions, exhibitors were extremely confident.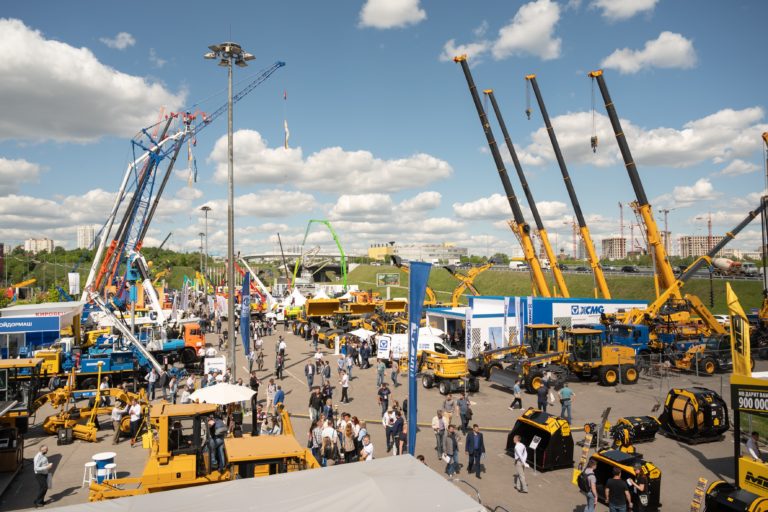 After China, Messe München can now also organize trade fairs in Russia again. bauma CTT Russia will be held as a presence trade fair in Moscow from May 25 to 28. (Image source: Messe München GmbH)
Stefan Rummel, Managing Director of Messe München GmbH emphasizes: "bauma CTT RUSSIA sent a positive signal to the global construction machinery industry: it was the only trade fair in the bauma network to be held in 2021 as a face-to-face event—another especially important step towards restarting worldwide trade fair business. Despite the special circumstances, many marketleaders came to Moscow. Optimal conditions—also for the five bauma NETWORK shows in the coming year. "bauma CTT RUSSIA in figures Russia's leading trade fair for construction machinery proved its importance as a business platform: 344 companiesfrom 16 countries exhibited on site in Moscow, showcasing their product to a total of 18,863 visitors. Compared to the last edition in 2019, the total exhibition space decreased to 35,000 square meters due to the pandemic. The top six exhibitors in terms of exhibition area were: XugOng Ru LLC with the brand XCMG, Kudesnik, FASSI, URAL Automotive Plant,ZoomlionHeavy Industry Rusand Zeppelin.
"On each of the four trade show days, the trade fair was very well attended with many high-ranking representatives from politics and business.The safety and hygiene concept in place provided a secure platform for business and networking", explains Sergey Alexandrov, Managing Director of Messe Muenchen Rus. According to a survey among visitors and exhibitors, an overwhelming majority was satisfied with bauma CTT RUSSIA 2021. Both exhibitors and visitors noted the representativeness and brightness of the exhibition area
Positive response to business program
bauma CTT RUSSIA's new business program brought together experts and representatives of industry leaders to share their latest insights. The bauma CTT FORUM and Confab attracted more than 1,000 participants.The business program placed special focus on bauma CTT MINING: in the conference 'Future of mining', speakers from more than 35 leading companies and organizations in the mining industry shared their knowledge.
Ceremonial award presentation
Highlight of the fair's second day was the award ceremony 'Construction equipment innovations in Russia', where renowned experts and journalists from specialized Russian publications covering the construction and special equipment market awarded the nominees. More than 30 applications were submitted—the following companies won in one of the categories:
NFLG Pioneer 4500—'Asphalt mixing plant of the year'
BOMAG BF 700 C-2—'Asphalt paver of the year'
CAT D5—'Bulldozer of the year'
Impulse 300S Classic—'Attachments of the year'
BOMAG RS 600—'Recycler of the year'
MAN TGS 33.510 6*6 BB—'Dump truck of the year'
JCB Electric Teletruk 30-19E—'Telescopic loader of the year'
Volvo L350H—'Wheel loader of the year'
Liebherr R938—'Excavator of the year'
UMG TLB 935—'Backhoe loader of the year'
Save the dates for 2022
The next bauma CTT RUSSIA will take place from May 24to 27, 2022 and will start off a worldwide bauma trade show series: as many as five exhibitions from bauma NETWORK will take place around the world in 2022:
bauma CTT RUSSIA, May 24–27, 2022 Moscow
M&T EXPO, August 30–September 02, 2022, Sao Paulo
bauma, October 24–30, 2022, Munich
bauma CHINA, November 22–25, 2022, Shanghai
bauma CONEXPO INDIA, 2022, New Delhi