Voith and Ray Sono Launch New Digital Business Model
While it has been possible to control other technical installations from a smartphone, this has not previously been an option in hydropower. Voith, in conjunction with digital specialist Ray Sono, has now developed a solution to achieve this. The use of real-time data and intelligent analysis permits faster and better decisions.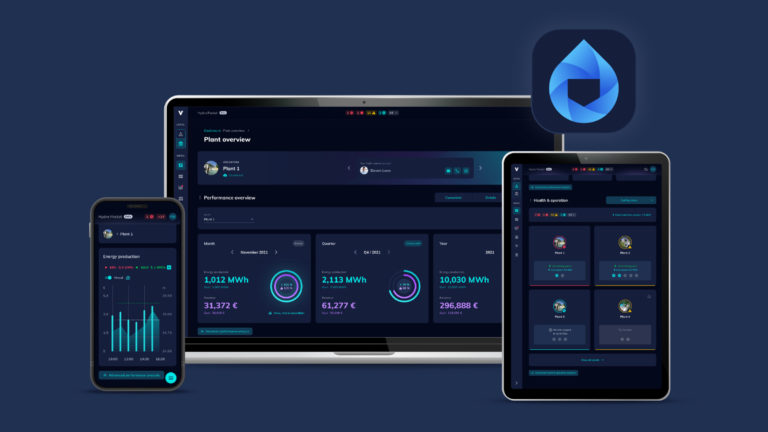 Intuitive dashboards permit the monitoring, analysis and optimized performance of individual machine units, complete systems, or entire fleets in a single application. (Image source: Voith Hydro Holding GmbH & Co. KG):
Hydro Pocket is a smart, all-in-one solution for small and medium-sized hydropower plants, which offers operators greater efficiency, flexibility and security. The cloud-based solution will now enable them to manage the system data on a "smart" basis. Thanks to the transparent view of assets, assistance in the form of intelligent analysis methods, maintenance and repair planning can be optimized and faults or unplanned downtime can be reduced. As a result, management of the system is simplified and communication requirements are reduced.
"The application can be intuitively operated via a clearly configured dashboard, and can map individual power units, complete stations or even entire fleets. These can be displayed on a computer, smartphone or tablet," explains Dr. Tobias Keitel, Chief Operations Officer at Voith Hydro.
Unique development process
There are currently three different types of digital solution providers in the hydropower market. So-called OEMs (Original Equipment Manufacturers) offer supplementary products, which are suitable for their hardware, but in most cases are unable to offer a customized solution. Third-party providers supply retrofit solutions, but do not possess any technical expertise. As a result of the high outlay and investment costs involved, only very large companies can often rely on the third variant of internal development.
"With Hydro Pocket, all of these aspects were taken into account during the development stage. While Voith has around 150 years of experience in hydropower, we at Ray Sono were able to contribute our expertise in the design and implementation of digital applications," explains Sebastian Krüger, Executive Board member of Ray Sono, in describing the process.
Work was also carried out directly on the Indonesian pilot project Sion. The valuable findings made during this project contributed significantly to the expansion and configuration of the functions and features. "In addition to focusing on user experience, user interfaces, and the technical stability of the application, feedback from initial customers was also taken into account to develop a market-ready solution," Krüger continues.
Easy installation
Hydro Pocket can be adapted to individual needs and user requirements, but is also quick to install and easy to configure. The user receives a starter kit to assist in this process, and attaches the hardware contained in the kit to the power plant. The task of configuring the system is subsequently performed by Voith, with the entire process taking less than four weeks to complete.
Three pillars
The three pillars covered by the product are the monitoring, analysis and management of the system. This offers operators various advantages, which span the need to increase efficiency and flexibility, and make optimum use of manpower, to the transfer of knowledge, and the security and modernization of the aging infrastructure. Hydro Pocket is a holistic and contemporary solution, which guarantees optimal operation of small or medium-sized hydropower stations.
"In addition to the 12 MW system at Sion, in Indonesia, which has been using Hydro Pocket since March 2022, there are also six other systems in Europe and Southeast Asia, which are already putting Hydro Pocket to the test," Keitel adds.