Vogelsang Presents Solution for Wet Wipes Problem
"In sewer systems and sewage treatment plants, disruptive matter like wet wipes or entangled material is often to be expected. These clog up pumps, lines and valves, thus impairing operation. The new generation of our waste water grinder XRipper reliably reduces this matter to an unproblematic size, ensuring trouble-free operation and helping prevent costly interruptions in the long term," says Harald Vogelsang, managing director of Vogelsang.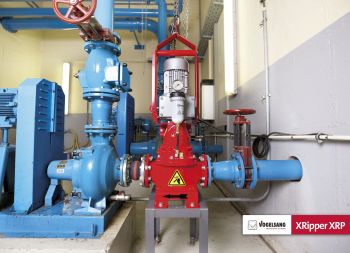 Vogelsang XRipper XRP for installation in confined spaces (Image: Vogelsang GmbH & Co. KG)
Reliable operation and reduced costs
The new housing geometry of the optimized XRipper generation achieves significantly higher throughput rates. The result is reduced investment and operating costs. In addition, the new XRipper models shred even better and more evenly. The proven, monolithic Ripper rotors allow the XRipper to reliably master stubborn disruptive matter that may block or even damage systems with conventional cutting discs. This helps to prevent resulting damage. Replacing the Ripper rotors is quick and easy.
XRipper XRC (XRipper for Channels)
Vogelsang has expanded the model range of the XRipper XRC for use in channels. Effective immediately, the new XRC-100 series provides extremely compact units. Because of their small dimensions, they can be installed in even the narrowest channels (from 300 mm wide). The XRipper XRC thus reliably prevents downstream pumps and valves from getting clogged. The optimized Sewer Integration Kit (SIK) makes it easy for the XRipper to be flexibly installed in open channels or in front of intakes in shafts with slanted or round walls.
XRipper XRP (XRipper for Pipelines)
The XRipper XRP has the optimal type of construction for inline installation in waste water pipelines and other confined spaces, such as shafts (installation in the pipe from 406 mm deep). For servicing, gearcases together with shafts and Ripper rotors can be lifted out of the housing and maintenance performed easily outside confined spaces. The easily accessible Ripper rotors and gaskets allow quick and easy part replacement.
IQ series: Well-thought-out design for efficient handling
"Thanks to their compact dimensions and variable connectors, rotary lobe pumps from the IQ series can be used for all common installation scenarios. This makes assembly on-site much easier," explains Vogelsang. An integrated fluid buffer prevents dry running and thus simplifies pipe construction. The pump housing consists of one single part and can be removed in just a few simple steps, providing easy access to the inside of the pump. When replacing wear parts, you don t have to unscrew the pump from the pipe. The small number of spare parts saves time during replacement and reduces costs considerably.