Vogelsang Acquires Machinery Dealer Bos Benelux B.V.
Hugo Vogelsang Maschinenbau has taken over Bos Benelux B.V. After 30 years as an active partner, Vogelsang has now strengthened its bond with the company, in order to control sales in the Benelux countries directly in the future.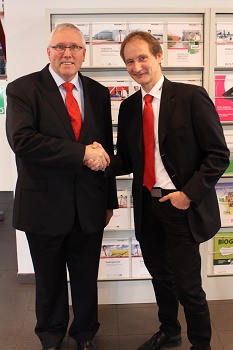 Bert Bos (left), managing director of Bos Benelux, with Vogelsang managing director Harald Vogelsang (Image: Vogelsang Maschinenbau)
"We had already been working successfully with Bos Benelux for many years. This purchase now gives us a base of our own in Dordrecht, where we can offer our customers proven Vogelsang technology," said Vogelsang s managing director Harald Vogelsang. "Users in the region will also benefit from our experience and support in the agricultural, biogas, industrial, wastewater and waste management sectors."
Important sales partner in Benelux
With steadily increasing turnover in the seven-figure range in recent years, Bos Benelux is Vogelsang s central sales partner for Belgium, the Netherlands, and Luxembourg. The owner-managed company has been importing and selling pumps and shredding, distributing, and spreading equipment from Vogelsang and other manufacturers since 1986. By supplying products that complement each other, Bos Benelux thus offers its customers complete solutions. All 14 employees will continue their work in selling products including technical service for Vogelsang.
Global network
Vogelsang, a manufacturer of special-purpose machines, counts among its customers farms and agribusinesses, operators of biogas and sewage treatment plants and a wide variety of industrial companies. The corporation already spans the globe with more than 20 subsidiaries, branches and sales offices, as well as two production facilities in Germany. Vogelsang currently employs just about 700 employees worldwide.