Verder UK Introduces New Website
Verder Ltd's new modern and easy to navigate website provides an excellent introduction to Verder's range of quality sealless pumps.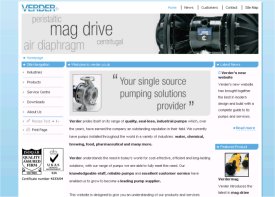 Verder is aware of the growing reliance on the internet for more and more of its valued customers; in order to meet this demand Verder realised that it needed a much improved web presence than was currently on offer. In collaboration with Cool Pink, a website design company based in Leeds, England, it evaluated the needs of its customers and company requirements and came up with a modern, customer-focused information tool.
As a total pumping solutions provider, Verder is keen to provide specialised solutions to its customers and to this end it has created individual industry pages to allow different industries to see how it could benefit from using Verder's products. The website also provides up to date company information including excellent application stories across the entire pumping range. These stories coupled with product specific information should give customers the chance to learn more about Verder whilst offering effective and easy to understand solutions.
All too often companies create a website and then fail to update them regularly, meaning the information is old-news or incorrect. From the beginning of the design process Verder UK insisted on a complete data-management scheme to allow it to update the website with the latest product information and news and delete anything obsolete. This will allow customers to keep fully up to date with Verder UK's latest news and features and be reassured that anything on the website is correct.