Turkey Is Partner Country for Mostra Convegno Expocomfort 2020
Organizers have already started work on the 42nd edition of MCE – Mostra Convegno Expocomfort, set to take place from 17 to 20 March 2020 at Fiera Milano.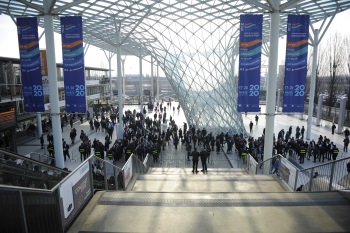 Mostra Convegno Expocomfort
The 2018 edition of the world's largest exhibition for residential and industrial installations, HVAC&R and renewable energies that took place alongside BIE-Biomass Innovation Expo for the first time, has registered constant growth with more than 162,000 attendees from all over the world; visitors from Italy were up 4 per cent while foreign visitors up 5.6 per cent. MCE has announced that Turkey will be the honour's partner country for the next edition.
A choice that wants to enhance the collaboration with a country, always present at MCE that, in recent years has recorded an upward trend, both in the number of companies exhibiting (a 9% rise in 2018 versus 2016 and a 25.5% increase in occupied space in 2018 versus 2016) and of trade visitors, (a 16.5% increase in the last two editions). In fact, 70 Turkish companies have already booked 3,600 square meters confirming their presence at MCE 2020 so far.
A growth trend that captures well a snapshot of a nation that over the past few years has seen an increase in its commercial strength worldwide through targeted initiatives arranged by the Government to support a diverse range of industry sectors. Indeed, in 2017 Turkey had the highest GDP growth of 7.4 per cent among OECD countries (Organisation for Economic Co-operation and Development) and the fastest growing of all G20 economies, becoming Europe s 5th biggest economy and the 13th largest in the world.
Significant results delivered by a stable and mature financial sector, stable economic policies, a high-level private sector, and a well-capitalised banking system and most profitable, along with a low corporation tax. Factors that have led the country, which now counts 80 million inhabitants, to attract more than USD 195 billion of foreign direct investment from 2002. According to the most recent statistics from the Turkish Statistical Institute (TÜİK), the economy grew by 5.2% in the second quarter of this year compared to the same period last year, but it shrank in the first three months of 2018; a growth due to an increase in domestic demand – mainly in private consumption. The economic and trade relations with Turkey are excellent, and Italy always ranks in the first place among the country s main partners. Italy represents a key market for the Turkish HVAC-R industry, with the volume of trade between the two countries reaching nearly 1 billion US dollars every year; Turkey is slipping to third place in imports after China and Germany, and it ranks third on exports after Germany and UK. In detail, as regards exports to our country the Heating Systems sector ranked first highest with 38% of the market share and a current export value standing at 65,467.158 US dollars (2017 data), followed by the Plumbing systems having a market share of 23% (value of exports at 39,233.087 US dollars), 12% were Air-conditioning systems (value of exports equal to 21,598.791 US dollars), 18% were Ventilation systems (value of exports at 31,184.367 US dollars), and 9% were Cooling and Refrigeration systems (value of exports equal to 15,420.622 US dollars). In this context, Turkey will be the guest of honour at MCE 2020. The initiative will run a series of promotional activities, developed in collaboration with ISIB (Turkish HVAC-R Exporters Association) one of the country's leading organisations representing over 900 companies in the HVAC-R sector aiming to facilitate business and networking opportunities between enterprises of both countries and the broad audience of professionals that every two years walk the aisles of MCE.
"Last year, we launched the Partner Country initiative - declared Massimiliano Pierini, Managing Director of Reed Exhibitions Italia – aiming to foster encounters between our exhibitors and decision-makers of some of the most attractive international markets, and we are glad to continue on this matter also for the next edition of MCE. We have already made initial contact, and we hope to be able to bring a short list of company representatives and buyers, institutional organisations and an official delegation to the inaugural event".
Among the first activities of the Partner Country's project will be Istanbul, one of the legs of the international RoadShow of MCE, with a dedicated event organised in collaboration with ISIB, (Turkish HVAC-R Exporters Association) aiming to illustrate the numerous opportunities to build relationships that an international trade show such as MCE can offer both Italian companies and professionals. Therefore, a project that, on the one hand, will give further impetus to the international promotion of MCE, on the other will involve directly not only the HVAC-R supply chain companies but also institutional delegations at all levels.
Many other novelties and initiatives, still in development, will liven up MCE – Mostra Convegno Expocomfort 2020 running alongside the second edition of BIE-Biomass Innovation Expo, the trade show dedicated to biomass heating products and solutions. Once again, THAT'S SMART will be one of the strengths of MCE, a unique event, highlighting the synergy between electrical and HVAC-R technologies, allowing the construction of energy efficient, comfortable, connected, affordable buildings.