The Ribbon Was Cut Twice in Pakistan
Together with local partner Pak Oasis, Grundfos has recently inaugurated both a new sub-factory and a show room in Karachi.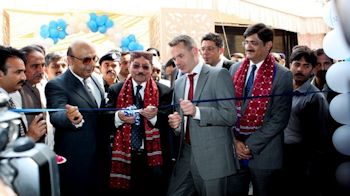 Grundfos
The local water system supplier Pak Oasis has been a customer and partner to Grundfos in Pakistan for quite some years, and now the cooperation has been notably sharpened. After several projects, where Grundfos products were utilized by Pak Oasis for the benefit of end users providing long term reliability of the installations, it was proposed to the Managing Director of Pak Oasis to establish a sub-factory concept for SP (submersible pumps). "The sub-factory will enable Pak Oasis to further benefit from the vast range of high quality and low energy consuming Grundfos products, which will create local jobs, reduce delivery time and freight costs and also provide flexibility in the supply of the pumps to market", says Area Managing Director for Grundfos, Henning Sandager.
Positive local partnership
This sub-factory concept for SP pumps is now a reality and the inauguration event was held at Pak Oasis' premises in Karachi with attends of more than 100 people and Chief Minister of Sindh province Mr. Qaim Ali Shah. One of the key note speakers was Danish Ambassador to Pakistan, Jesper Møller Sørensen.
"It is essential for Pakistan that the available water is distributed efficiently and by the use of minimal energy. Grundfos offers the most effective solutions for this challenge, and I am incredibly proud to see a Danish company in close collaboration with a Pakistani partner to create an attractive product that is based on renewable energy", says Mr. Sørensen. He stresses that the strengthened partnership will not only create new jobs and growth, it will also help Pakistan to use water resources more efficiently and reduce CO2 emissions to the benefit of the environment.
New show room solely for Grundfos
To further strengthen the position of Grundfos products and Pak Oasis efforts to promote and distribute Grundfos products to the market, Pak Oasis has invested in a new show room solely to display Grundfos products and Grundfos solutions.
"By these new initiatives Pak Oasis and Grundfos has tightened the partnership and prepared for future growth. Not least to support the governmental desire to improve better water supply and sanitations for people, to avoid people diseases and in a way which supports the energy deficits in Pakistan by applying renewable solutions combined with high energy efficient equipment", says Area Managing Director for Grundfos, Henning Sandager.
Facts about Pak Oasis:
One of the main activities Pak Oasis has been engaged in is developing of small to medium sized water supply systems for village and rural areas. Extraction of water from wells attached with water treatment either RO or UF and with focus on operating these sites with solar renewable energy. Projects orchestrated by Pak Oasis have reached more than 50,000 cubic meters a day, as well as composite hub projects of individual plants with much smaller individual capacities. More than 3,000 highly-skilled technical staff and engineers are retained by Pak Oasis for its operations, in order to ensure consistent and effective management of the sites to minimize unnecessary risk, as well as cooperation with our technological partners to allow fast response of engineers, closely-acquainted with the technology, for unavoidable circumstances.