Tencarva Machinery Company Acquires Assets Of Southern Sales Company Inc. in Nashville
Tencarva Machinery Company has acquired the assets of Southern Sales Company Inc., of Nashville, Tenn., a municipal sales and service organization, effective November 30, 2012, according to Rod Lee, president of Tencarva.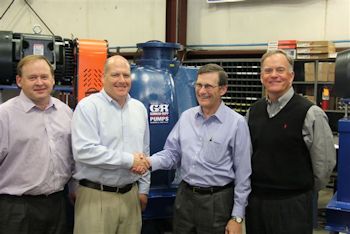 In business since 1923 and in its current form since 1968, Southern Sales Company has headquarters in Nashville and represents a broad range of water and wastewater products and services, with territory in Tennessee, Kentucky, and portions of Indiana and Ohio. Former owners and officers of Southern Sales Inc. joining Tencarva will be Bill Allen, as vice president of municipal sales, and Ed Guffee, as general manager of the Southern Sales Division. All of the 26 employees of Southern Sales have been offered positions with Tencarva.
In announcing the acquisition, Lee points out, "We expect to take advantage of Bill s and Ed s expertise in the municipal market to grow our business in all regions. Southern Sales has several lines in common with Tencarva, including Gorman-Rupp and Lightnin. In addition to rotating equipment, they have significant sales of large process equipment for the municipal market."
Lee explains, "Southern Sales Company has a customer-oriented culture, very compatible with Tencarva s and an extensive service organization. Southern Sales Company s employees have worked cooperatively with Tencarva s Municipal Division on many projects over the years. They are in a strong growth mode, with recent expansions into Ohio and additional areas in Indiana. The access to Tencarva s accounting and personnel management infrastructure, as well as our financial strength, will enhance this growth."
Allen emphasizes, "Ed and I are excited at the opportunity to join forces with an organization as strong and well respected as Tencarva. This acquisition helps to guarantee that the almost 90-year history of municipal success for Southern Sales will continue for our customers, suppliers and employees. We see a very bright and strong future for everyone involved."
The Southern Sales Division is located at 2929 Kraft Drive, Nashville, TN 37204. Southern Sales product lines include pumps and pumping systems, blowers, aeration and submersible mixers, filtration systems, wastewater equipment and systems, wet well cleaning and conditioning systems, flow meters, sludge handling and dewatering equipment and systems, valves, flow metering equipment and more.
Picture: Finalizing the acquisition of Southern Sales Company Inc. by Tencarva Machinery Company are (from left) Ed Guffee and Bill Allen, of Southern Sales Company; Rod Lee, president of Tencarva Machinery Company; and Don Wirth, vice president of Tencarva Machinery Company, who is located in the Nashville Branch Office.