Sulzer's Order Intake Grows 10 Percent in the First Quarter of 2019
Order intake in the first quarter of 2019 grew across all divisions, reaching CHF 984 million compared to CHF 900 million in the same period a year ago. Organic order growth of 8 percent was fueled by Pumps Equipment's Water business and Chemtech's Separation Technology business. Demand from energy customers remains robust. Sulzer confirms its guidance for 2019.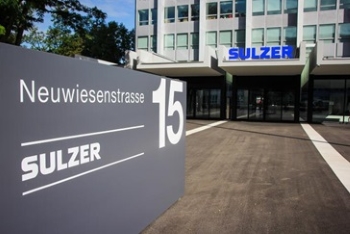 Sulzer
In the first three months of 2019, order intake rose by CHF 84 million, with currency-adjusted growth of 9.6 percent and organic growth of 8.4 percent. Currency impact was a negative 0.3 percent and acquisitions contributed CHF 11 million. Order intake grew in most Sulzer end markets.
Order intake from the water market increased by 36 percent organically, boosted by larger pump orders for water pipelines and desalination in the Middle East amounting to CHF 42 million. Municipal water grew at its normal GDP pace. Order intake from oil and gas was up by 16 percent, with a particularly strong downstream segment. Pulp and paper saw double-digit growth, while orders from power customers were 15 percent down compared to a strong first quarter of 2018 but up 19 percent sequentially.
Within the Applicator Systems division, orders from the dental and adhesives markets were up 6 percent, while beauty was down 13 percent due to a combination of a previously disclosed base effect from a customer switching to a new generation product, and lower growth from our large beauty customers.
Geographically, order intake growth in the Americas was particularly strong at +15 percent, with the USA up 20 percent. Europe, the Middle East and Africa rose by 12 percent, with Europe itself up 4 percent. Asia-Pacific orders shrunk by 3 percent despite China being up 9 percent and India close to 4 percent.
Market conditions continue to be favorable. While order intake growth to date is significantly above the full year guidance, some of the larger orders booked in the first quarter were expected in the second quarter. As such, Sulzer's guidance for the full year 2019 remains unchanged: adjusted for currency effects, Sulzer expects order intake to grow organically by 2 percent to 5 percent, and sales to grow organically by 3 percent to 5 percent. Sulzer forecasts reaching an opEBITA margin (opEBITA in percent of sales) of around 10 percent.