Stainless Steel Vertical Multistage Pumps
Sterling Fluid Systems has extended its range of multistage pumps with the introduction of the new SIHImultiSteel, the new range of vertical multistage pumps designed to meet the technical demands of industrial applications. Due to their modern design these vertical multistage pumps are reliable, quiet and easy to maintain.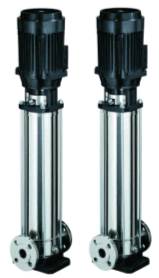 SIHImultiSteel - vertical multistage pumps (source Sterling)
unique design features like stamped stainless steel hydraulic parts, thrust bearings and sleeve bearings in tungsten carbide, replaceable floating liner rings, floating outer casing and motor bracket and base in cast iron guarantees low life-cycle-cost.
SIHImultiSteel pumps are vertical multistage centrifugal pumps with round flanges. The pump range consists of six hydraulic sizes up to 26 stages. All wetted components are designed in stainless steel. As an option the bottom casing and the top casing are also available in cast iron for the hydraulic sizes 065 and 100.
The axial thrust of the pump is balanced with a ball bearing placed in the bottom casing for power consumptions above 1.1 kW. Up to a power consumption of 1.1 kW the axial thrust is balanced by the motor bearing. The robust construction of the internal components such as impeller and intermediate casing are produced by a forming process that increases wall thickness and ensures component integrity.
The unique square-edge spline shaft provides positive location and drive of impellers thereby eliminating wear from sliding between faces. The pump shaft is supported on the drive side by ball bearings and on the suction side by a tungsten carbide sleeve bearing.
The intermediate casing is fitted with a dish-shaped insert designed to promote smooth flow and prevent high velocity areas that accelerate erosion. A mechanical shaft seal is located on the drive side.
Applications
Waterworks, and water supply
Boiler feed
Pressure boosting
Irrigation
Filtration
High pressure cleaning
Heating
Condensate systems
Reverse osmosis
Water treatment plants
and many more ...
Technical Data
Flowrate: max. 75 m³/h
Head: max. 250 m
Speed: max. 2950 rpm
Temperature: -15 to +120°C
Pressure Rating: max. 25 bar
Shaft seal: mechanical seal
Direction of rotation: clockwise, when viewed from motor side