Servo-controlled Solenoid Valve
The solenoid valve VZWP from Festo, which has a piston seal instead of a diaphragm seal, can be used with a maximum pressure of 40 bar.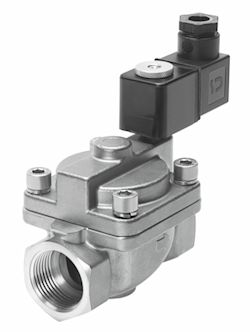 Solenoid valve VZWP: for use with high pressures. (Photo: Festo)
This makes it a universal process valve for water, air and neutral media.
The solenoid valve VZWP is used for gaseous and liquid material flows up to a viscosity of max. 22 mm²/s in factory and process automation. It is primarily used in filling and irrigation plants, well technology and sanitary engineering, water treatment, mixing plants as well as pipeline engineering. High pressures can be controlled with large nominal diameters using small solenoids, which is a definite advantage.
As a rule, the valve can be used wherever the medium can be released into the open air or an unpressurised reservoir downstream of the valve. The solenoid valve VZWP is normally closed. The piston seal means that the same pressure as in the valve inlet builds up through a bleed orifice. As soon as the solenoid is actuated, the pressure is reduced via a vent. The solenoid valve is suitable for applications with differential pressure and for open media circuits.