Scott Hanratty and Florin Iancu Join Turbodesign Technology
Advanced Design Technology (ADT) announced that its United States affiliate, Turbodesign Technology (TDT) hired Scott Hanratty as director of sales and marketing, and Florin Iancu, Ph.D., as engineering director.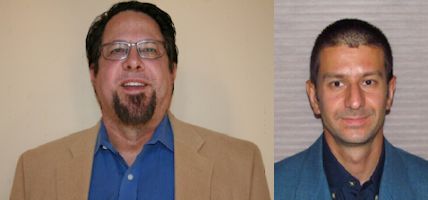 Scott Hanratty (left) and Florin Iancu (right) (Image: TURBOdesign Technology)
Hanratty and Iancu report directly to Mehrdad Zangeneh, founder and managing director of ADT and president of TDT.
"As the provider of the only currently available nonproprietary software for the 3D inverse design of turbomachinery, we are pleased but not surprised at the high level of interest in our products and services that encompass a newer, faster and more accurate way to approach turbomachinery design," said Zangeneh. "With the addition of Scott Hanratty and Florin Iancu to our Turbodesign Technology team, we have the needed expertise and support to fulfill U.S. software sales and engineering services demand."
As director of sales and marketing for TDT, Scott Hanratty is the head of North American sales for ADT's Turbodesign Suite and is responsible for growing existing accounts as well as new business development. Prior to joining TDT, Hanratty was vice president of international sales and operations for NEi Software (Nastran). He also had successful sales careers as the director of sales at Concepts NREC and ANSYS. For ten years, he has focused primarily on growth in Asian and South American markets where he has grown strong networks of value added resellers (VARs) and direct sales presence as well as wholly owned subsidiaries in Europe, Mexico and Japan. Hanratty earned a Bachelor of Science degree in business and economics from the George L. Graziadio School of Business and Management at Pepperdine University. He is a member of the American Management Association, American Marketing Association and American Society of Mechanical Engineers (ASME).
Hanratty operates from an office in Gilbert, Ariz.
As engineering director for TDT, Florin Iancu is responsible for maintaining customer relationships, leading turbomachinery product engineering projects and assisting in Turbodesign software development advances. Iancu joined TDT in October 2012. Prior to joining TDT, he spent seven years as a compressor design engineer for Johnson Controls, Inc., of York, Penn., where Iancu was actively involved in the aerodynamic design of the centrifugal compressor as well as in the mechanical aspects, fabrication and controls of these machines. He earned both his Doctorate degree and Master of Science in mechanical engineering from the College of Engineering at Michigan State University where he focused on novel techniques for enhancing gas turbine and compressor process efficiencies. Iancu earned his Bachelor of Science degree from the Department of Engineering at University Politehnica of Bucharest in Bucharest, Romania. Iancu's work so far has generated eight U.S. and international patents and patent applications. He is actively involved in the American Society of Mechanical Engineers (ASME) and the current chair of ASME's Process Industries Division's Executive Committee.
Iancu operates from an office near Washington, D.C.