Rovatti PTO Pumps for Agricultural Tasks
With increase in the population, the demand for food also increasing. Rainfall does not always occur in right amount at the time when crops need water. Thus, there is always a need of irrigation in most parts of India. Indian irrigation infrastructure includes a network of major and minor canals from rivers, groundwater well-based systems, tanks and other rainwater harvesting projects for agricultural activities.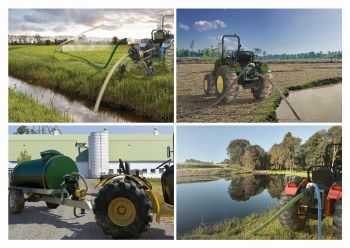 Rovatti A. & Figli Pompe S.p.A.
Until a few years ago, only about 35% of agricultural land in India was reliably and efficiently irrigated and about 2/3rd cultivated land is still dependent on monsoons. The improvements in irrigation infrastructure and methods, in the last 50 years, have helped India to optimize food security, reduce dependence on monsoons, increase agricultural productivity and create rural job opportunities.
Regarding high efficient pumping solutions, the italian Rovatti Pompe is able to provide cutting-edge equipments for every need. Thanks to over 60 years of experience in water technology, the Company can offer a comprehensive range of centrifugal pumps for surface and submersible tasks in order to satisfy the most disparate applications for pumping clean water, sewage and aggressive liquids.
With particular reference to very flexible and smart products for crops irrigation, the Rovatti range of pumps with overgear for tractors is available in more than 30 models and in different sizes for low, medium and high heads reaching water flow rates over 1000 m3/h in order to suit all types of irrigation coupled with all brands and sizes of Tractor.
These centrifugal pumps are suitable for pumping water in mobile or semi-mobile irrigation systems, and in all other cases such as tank trucks for managing and distribution of (even) drinkable water. These pumps are manufactured in multiple executions, sized 50 mm to 250 mm and they can be quickly and easily set-up allowing to start irrigating in few minutes upon installation on a light, smart and simply transportable wheeled trolley or on a three-point linkage.
If the user has a tractor and wants to use it as the power source, Rovatti PTO pumps represents a solution as well as a suitable answer when an engine-driven or electric motor-powered-pump cannot be used or if the dynamic mobility of the puming-unit is a concern.
The extreme installation versatility makes these products suitable for every agricultural need, for general water supply or emergency drainage in case of heavy rains. They are able to easily handling and lifting water from very far located sources up to horizontal distance of 40.000 feet (more than 12.000 m) and with heads of 500 feet (more than 150 m) ensuring top level performance and reliability.
In addition to this the Italian Company is proud to promote the evergreen compact and user friendly "Midy" range (T0-50/T0F-50/T0-50A/T0F-50A): small mechanics jewelry able to ensure impressive performances in a compact and light pump body. Manufactured with high specification cast-iron, each "Midy" pump incorporates sturdy engineered helical gears, oil lubricated bearings and a quality mechanical seal in order to to guarantee high efficiencies and a reliable-long-maintenance-free operational life.
The selection of plastic suction and delivery fittings reduces the overall weight to allow a rapid transfer between tractors for emergency pumping duties. Available both in centrifugal and self-priming execution, each "Midy" model (T0-50/T0F-50/T0-50A/T0F-50A) is available both in cardan shaft driven version and for direct coupling to PTO, to make an easy and reliable coupling to any type of tractor and/or truck.