Rockwell Automation Introduces Next Drive Generation
Representing the first in the company's next generation of compact full-featured drives, the PowerFlex 525 AC drive features a modular design in power ranges from 0.5-30 horsepower or 0.4-22 kilowatt at 100-600 volt input.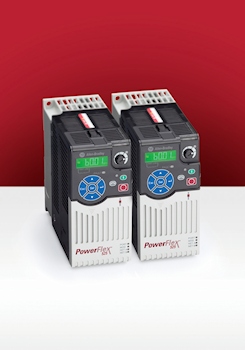 Rockwell Automation
It's embedded Ethernet/IP, safety, USB programming, energy savings and a variety of motor control options are ideally suited for machine-level and standalone applications or simple system integration.
"Thousands of machine builders and end users told us they want drives that deliver more flexible control, offer better communication and help them simplify start-up," said Jimmy Koh, global marketing manager, Rockwell Automation. "Our new drive portfolio is designed to give customers the performance they need, while helping to lower their total cost to design, develop and deliver machines."
Suitable for a wide range of applications, including conveyors, material handling, compressors, fans and pumps, the PowerFlex 525 AC drive provides a variety of motor control options to accommodate open- and closed-loop applications.
To help simplify and streamline set-up, users can configure the PowerFlex 525 AC drive through its human interface module (HIM), Rockwell Automation Connected Components Workbench software or Studio 5000 software. The PowerFlex 525 AC drive offers time-saving application sets, which are groups of predefined parameters for common drive applications that users can apply "as is" or customize for a machine. Using a standard USB connection, machine builders can easily download the completed configurations and share with multiple drives, which greatly speeds up commissioning time.
Removing the control module from the power module further reduces start-up time because configuration and installation can be done simultaneously. Mains Free programming through a USB connection removes the need for main power during drive configuration as well as the need for special adapters to communicate between the drive and the programming tools.
"Function rich AC drives at low power ranges offer greater flexibility and ease-of-use, which reduce set up and installation costs significantly," according to Himanshu Shah, senior analyst, ARC Advisory Group. "OEMs and end users continue to seek automation equipment that offers lower cost of ownership and a faster payback period in their capital investments. The PowerFlex 525 AC drives directly address these business issues with more motor control options, flexible programming tools, as well as advanced communication, safety and energy saving options."
Embedded EtherNet/IP connectivity optimizes integration with programmable controllers to deliver more application flexibility. Optional dual port Ethernet/IP connectivity supports device level ring (DLR) topology, providing a robust network infrastructure.
A SIL2/PLd-certified, embedded torque-off feature helps prevent drive restarts after a safety circuit is tripped, ultimately helping to protect personnel and equipment and minimize production losses. The drive's Economizer mode helps optimize motor energy consumption by monitoring an application's current demand and automatically refining operating parameters accordingly. For example, if the drive detects that less current is required to move a load, it can reduce flux current to the motor. This decreases the energy required and helps save operating costs.
The PowerFlex 525 AC drive is rated up to 50 degrees Celsius /140 degrees Fahrenheit, and with an optional fan kit the drive can withstand temperatures up to 70 degrees Celsius/158 degrees Fahrenheit with current derating.