Delta Launches New Fan, Pump and Compressor VP3000 Drive
Delta has announced the launch of its new Open-Loop Variable Torque Standard Drive VP3000 for fan, pump and compressor applications. The VP3000 is specially designed to enhance fluid machine operation efficiency and reduce inverter harmonic distortion for a wide range of fluid applications.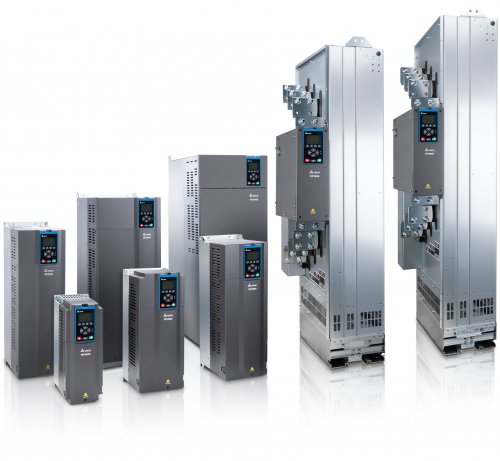 (Image source: Delta EMEA)
The VP3000 series offers excellent performance and stability with support for high-efficiency motors including induction motors, permanent magnet motors, and synchronous reluctance motors from 0.75 to 630kW.
"For fluid machine operation, the customers are now looking for high efficiency to reduce energy and CO2, lowered harmonic distortion and user friendly functions. By offering greater power density of 23% lower cabinet volume on average, and low harmonic distortion of down to THDi 35%, the VP3000 is able to satisfy regulations across Europe, the Middle East, and Asia," said Landers Yeh, Product Manager, Industrial Automation Business Group, Delta Electronics EMEA region. "We're confident this new variable-torque drive is going to be very competitive."
Highest Standard and Low Harmonic Distortion
The new VP3000 drives from Delta come with an array of integrated safety features. Safe torque off SIL3, the highest safety integrity level that applies to machine systems. Built-in EMC filters provide electromagnetic compatibility up to C2/C3. The drive is resistant to moisture and dust with coating 3C3. By using film cap topology to replace traditional electrolytic capacitors, Delta was also able to lower the drive's harmonic distortion down to 35%, far below the EN 61000-3-2 standard which specifies a total harmonic distortion of less than 48%.
Energy-saving and User Friendly Functions
Compared to the general motor drive, the higher power density of the VP3000 allows for a 23% lower cabinet volume on average. In some cases, the volume of the unit can be decreased by as much as 55%. The high-power models can also mount durable and easy-to-maintain floor-type modules, which increase space utilization and simplify assembly for easier and faster operation. It also helps improve motor productivity and efficiency, reducing carbon emissions for environmental sustainability as a critical part of device-based energy saving. Equipment in the heating, ventilation, and air conditioning industry as well as water treatment facilities will benefit from the drive's advanced features, which enable the movement of fluids using fans and pumps. The new drive also has a predictive maintenance feature for key components, which helps users pre-schedule service to ensure the stable operation of machines.