Revised Dosing and Emptying Systems Save Space and Reduce Costs
Rethinking entrenched design assumptions to create the space for improvements is a guiding principle that has already enabled Netzsch Pumpen & Systeme GmbH to implement significant improvements in rotary lobe and progressing cavity pumps. The company has now also taken a fresh look at its dispensers and barrel emptying systems, simplifying in particular the somewhat complex designs and significantly reducing the number of different components.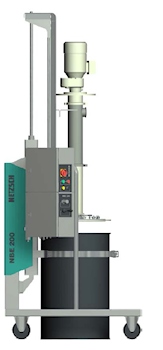 Just two frame types and three designs deliver barrel emptying from 0.3 to 200 litres using different pump sizes. Special requests can also be fulfilled quickly and simply. (Image: Netzsch)
The revised designs do not affect the high dosing accuracy and low residues found in the existing Netzsch systems. The new barrel emptying systems and dispensers will be shown for the first time at this year s Hanover trade fair in hall 006 at stand A27.
The sealing and bearing of the drive shaft in the NEMO dispenser in particular have been resigned with efficiency in mind. The design has been simplified and the number of parts reduced, reducing the length by more than 10 mm in all model sizes and bringing down the weight, on average, by 20 percent. The changes create new possibilities for the configuration of production machines, as the light dispenser, for example, can be carried by a smaller robot, which in turn lowers investment and operating costs. The new technology also increases the simplicity of maintenance thanks to installed components.
Application by the dispenser is highly dynamic thanks to the installed servo drive, while the special rotor-stator geometry of the integrated progressing cavity pump ensures that even compacted, highly filled or shearing-sensitive products or media with solid content are transported sensitively. The volume conveyed is directly proportional to the speed of the pump with a volumetric dosing accuracy of ± 1 percent above 90° rotor rotation. A universally adjustable retraction system also prevents any dripping. Depending on requirements and model size, medium can be transported at between 0.05 and 9 ml per rotation irrespective of viscosity and temperature. If necessary for the process, the dispenser can be fitted with a heating unit.
Three system sizes cover barrel emptying from 0.3 to 200 litres
As part of dosing technology, the barrel emptying systems from NETZSCH have also been revised and the broad range of different designs has been slimmed down. In future, all required volumes will be covered by just three model sizes. For this purpose, our experts have developed two new support frames in which pumps of all sizes up to NM063 can be installed. As a result, barrel emptying systems can be implemented more quickly and with lower complexity, even to custom specifications.
The entire system is based on a progressing cavity pump that sits on a follower plate. The plate size is determined by the diameter of the barrel to be emptied, so that the pump can generate a vacuum under the plate and then automatically provide suction towards the bottom of the barrel. As the plate also exerts gentle pressure on the medium, the barrel is emptied up to a residue of less than 1 percent. As standard, barrels from 0.3 to 200 litres can therefore be emptied reliably. Special solutions can also handle barrels with volumes of up to 1000 litres. A flow of 6 ml/min to 10 m³/h is possible. Thanks to the progressing cavity pump technology, the quantity conveyed can be regulated within the scope of each model size and accurate dosing directly from the barrel is available as an option.
Complete systems, down to automated dosing cells
On request, dispensers and barrel emptying systems are also available as a complete system with control units and buffer accumulators. A 1-litre accumulator delivers constant supply pressure in long pipes, cancels out fluctuations and bridges barrel changes, ensuring that dosing remains accurate and that wear in the dispenser is reduced. The control unit can be installed to suit process requirements, from a simple start-stop unit through to complex two-component dosing control units. A touchpanel or a display with control keys can be installed to meet more advanced control requirements. The display or touchpanel provides a clear overview of all the parts of the system, including the relevant process parameters.
Netzsch also produces automated dosing cells. The cells are custom-designed for each specific application and, alongside the dosing system, include parts handling with an articulated arm or linear robot. The systems can be integrated directly into the production line via corresponding interfaces. This solution delivers emptying, dosing, control and application technology from a single source.