Quattroflow Launches New QuattroTec Series Pumps
Quattroflow, part of PSG, is pleased to announce the launch of its new QuattroTec Series Quaternary Diaphragm Pumps. The new QuattroTec Series has been developed through the adoption and redesign of the Quattroflow pumps to retain the advantages and concurrently achieving the requirements of hygienic applications.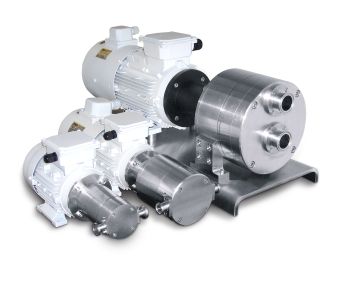 PSG
The target application for QuattroTec pumps is the continuous dosing of high-value additives in the food and beverage and personal care industries (e.g. to add concentrates to a fluid stream for soft drinks) as well as for in-line dilution. Because the pumps can provide a consistent flow that results in a constant and continuous dosing of ingredients, QuattroTec pumps are the ideal choice for critical applications in hygienic processes.
QuattroTec pumps incorporate a four-piston diaphragm technology with no mechanical seals that is driven by an eccentric shaft and electric motor. This technology provides a safe, reliable and efficient transfer of liquids that require precise flow, high turndown and accurate dosing in a hermetically sealed environment, coupled with the ability of transferring clean-in-place (CIP) media with the same pump. These pumps also feature a unique seal-less design, self-priming and dry run capabilities, compact footprint, high-suction lift and are sanitize-in-place (SIP) capable. QuattroTec pumps comply with FDA 21CFR177.
The QuattroTec Series consists of three sizes – QT10, QT20 and QT30 – with maximum capacities of 180 lph (0.8 gpm) to 5,000 lph (22 gpm). QuattroTec pumps feature wetted pump chambers made of 316 stainless steel, while the valves are made of EPDM and the diaphragms of Santoprene™. Typical applications of QuattroTec pumps include food and beverage; perfumes, personal care and cosmetics; enteral nutrition; functional food; additivities and enzymes; liquid yeast and life ingredients.