Q.E.D. Environmental Systems Announces Mark Weinberger Appointed President
Q.E.D. Environmental Systems announces that Mark Weinberger has been appointed President of Q.E.D. Environmental Systems. Mr. Weinberger brings years of leadership on product design, engineering, and development to Q.E.D.'s environmental business, which manufactures fluid management and gas analysis solutions for the environmental monitoring and remediation markets.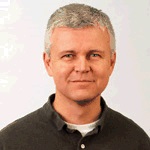 Mark Weinberger (Image: Q.E.D. Environmental Systems)
As an Engineering Manager in Graco's Applied Fluid Technologies Division (AFTD) since 2008, Mark led a team responsible for the development of several key product lines, including Fusion guns, Integrated Reactors, InvisiPac, and Therm-O-Flow. He holds 144 global patents, including 19 U.S. utility patents.
Mark has held a variety of other engineering and design roles since joining Graco in 1992. Prior to joining Graco, he spent seven years in Honeywell's military and commercial avionics business.