Putzmeister Appoints Dr. Gerald Karch As CEO
The Supervisory Board of Putzmeister appointed Dr. Gerald Karch as CEO and thus successor of Norbert Scheuch. Mr. Scheuch left the company in mutual agreement after four years as CEO, on 31 August 2013.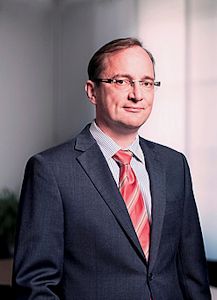 New CEO Dr. Gerald Karch (Image: Putzmeister)
Gerald Karch joined Putzmeister at the end of 2008 and was appointed to the management board in early 2010. In addition to the CEO role he will also be appointed to the Board of Sany, subject to the usual appointment procedures.
"The Supervisory Board thanks Mr. Scheuch for his dedication, his successful restructuring and repositioning of the company and wishes him all the best for his professional and personal future," said Dietmar Feder, Chairman of the Supervisory Board of Putzmeister. "At the same time, I welcome Gerald Karch as the new CEO of our company. He has already been part of the management team during the last period of fundamental change at Putzmeister and I am convinced that he will continue the company's strategy of international strength as a strong leader."
"It was a very exciting and challenging task to get Putzmeister back on track," Norbert Scheuch said. "After years of restructuring, Putzmeister can rightly claim to be the world leader in its sector."
Dr Gerald Karch said. "I am very much looking forward to assuming the position of CEO. We are in good shape, and Putzmeister will continue to strengthen its customer focus and international presence." Prior to Putzmeister, Gerald Karch spent 14 years at German engineering company ZF Friedrichshafen where he held various managerial positions. Karch studied mechanical engineering at the University of Karlsruhe and passed his PhD in 1992.
CFO Dr. Renate Neumann-Schäfer as well as the Putzmeister management team will remain in their positions and ensure continuity in the company as well.