Pumps for Polish Combined Cycle Power Station
By September 2014, KSB will deliver the pumps to be installed in the new combined cycle power station (460 MW) in Wloclawek, 140 kilometres to the northwest of the Polish capital of Warsaw.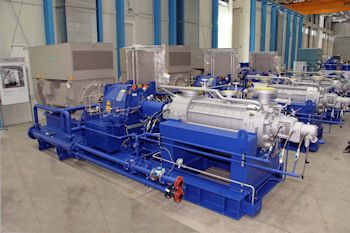 Multistage boiler feed pump from the HGC series, similar to those to be supplied to Wloclawek, Poland. (KSB Aktiengesellschaft, Frankenthal, Germany)
The order is for the supply of two boiler feed pumps, each driven by a 3,350 kW electric motor. To adjust the speed to the varying pump output required, the pump sets have been designed with a turbo coupling between pump and motor. The flow rate of each unit will be around 450 cubic metres per hour. The designed head is approximately 2,080 metres and the temperature of the fluid handled 144 degrees Celsius.
The impellers of the 10-stage special design are made of stainless steel. The scope of supply also includes two condensate pumps driven by a 350 kW fixed speed motor.
The Frankenthal-based manufacturer was awarded the contract, among others, because of the long-standing relationship with the Polish company established in the course of several projects in the past.
Contrary to Western Europe, Poland suffers from a lack of energy. New EU Directives are sure to aggravate the situation even more. Because of the relatively short investment processes, combined cycle power stations provide a quick remedy.