Pumps for Coal Gasification in India
By April 2011, KSB Aktiengesellschaft will deliver a total of 44 process pumps as well as various auxiliary systems and frequency inverters for a coal gasification plant in India.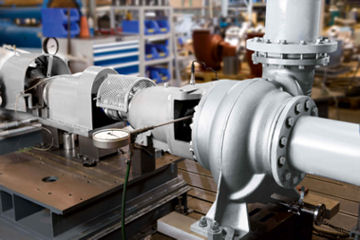 Performance test of a KWP pump destined for use in the new coal gasification plant in the east Indian state of Orissa. (KSB Aktiengesellschaft, Frankenthal, Germany)
The gasification process involves the application of high-pressure air and hot water to coal, producing hydrocarbons in the form of syngas. This gas can either be used as a fuel or further processed to obtain petrochemical products. Coal gasification has considerable potential to offer countries that lack oil and gas resources a new economic outlook. To ensure economic profitability it is necessary that the facilities are run continuously for many years.
The pumps employed in these plants must be robust as some of the media to be handled are hot and extremely aggressive. They also contain considerable amounts of solids with particles of up to 6 mm in size. For this reason, the casings and impellers are made from duplex stainless steel and the impellers are subjected to an additional hardening process. To meet the process's demanding pressure requirements, design engineers reinforced the pumps, boosting their pressure class from PN 10 to PN 50. The pump manufacturer's scope of supply also includes the relevant ancillary systems such as frequency inverters and soft starter controls.
The new plant built in the countryside in the east Indian state of Orissa will use the synthesis gas obtained from the gasification process to produce pig iron. Employing this process in a steel mill is a global first, and is significantly more environmentally friendly than conventional methods. A further benefit is that steel mill operators can use a lower-quality coal as a feedstock unsuitable for the production of coke or for combustion.
KSB was awarded the contract thanks to many years of experience gained in similar plants. The first pumps are currently undergoing performance tests on test facilities at KSB's Pegnitz location. Commissioning of the entire system is planned for 2012.