Pump up the Pressure
thinXXS GmbH, Zweibrücken, Germany, announced the launch of their latest micro pump model, the MDP2205. The pump features especially high back pressure and suction height while its footprint measures only one inch in diameter and a fifth of an inch in height.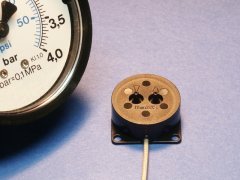 The new member of the thinXXS micro pump family will premiere at the Medica trade show in Düsseldorf, Germany, this week. Its introductory presentation to the American market will take place at the MDM West 2006 in Anaheim, CA, in January.
The MDP2205 micro pump is optimized for full integration into OEM products. Its most outstanding feature is a maximum back pressure of more than 50 kilopascal (approx. 8 psi), which is matched by a suction height of 1.5 meters (approx. 5 feet). Flow rate maxima range from 9 milliliters per minute for water to some 12 milliliters per minute for methanol. This performance should render it especially interesting for device manufacturers in fields such as diagnostics, analytics, miniaturized fuel cells, consumer goods, or chip cooling.
As is the case with all thinXXS pumps, the MDP2205 is a self-priming diaphragm pump which moves both liquids and gases, weighs only a few grams, and shows very low current consumption. Made entirely of high precision injection molded plastic components, it also may easily be integrated and adapted to varying customer needs.
"We well knew that a considerable portion of our customers needed more back pressure", explains General Manager Lutz Weber. "Hence, the development of a model especially fit to meet their requirements was but a question of time." His colleague and company co-founder, Hans-Joachim Hartmann, seconds: "As medical device technology is especially in want of miniature pumps, I am glad that our engineers made it in time for the Medica and the preview deadlines of the MDM West 2006."
thinXXS GmbH produces and develops microfluidic and micro-optic components and systems in plastics. Located in Zweibrücken, the company employs a workforce of about 30 people. thinXXS offers several microfluidic systems, their customization or integration into OEM products, as well as comprehensive contract services in product development and production. Among the markets, which profit from our high-tech solutions, are the life sciences, medical device technology, pharma, or automation.